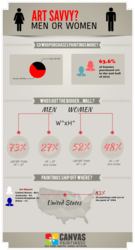 63.6% of their art buyers were females
New York, New York (PRWEB) February 28, 2013
Women are more likely to purchase a painting than men. In the 2nd half of 2012, CanvasPaintings.com completed a report based on their 2nd half sales. Report concluded 63.6% of art buyers were females. Meanwhile, 36.4% of paintings sold were to men.
In a measuring contest, 73% of men had purchased a painting on canvas that was larger than 24" x 20". Women on the other hand were more even at 52% of paintings sold were larger than 24" x 20".
The average woman spent $273.24 per order, while men spent $247.91.
Most popular theme of canvas art for the two genders?
Female = Famous Art Reproductions
Male = Abstract Art
Founded in 2007 and over 50,000 customers, CanvasPaintings.com is the largest art gallery for exclusive original hand-painted wall art. The collections range from famous art reproductions, landscapes and cityscapes, to modern and our most popular abstract pieces – each hand-painted (oil on canvas) by one of the more than 50 talented artists employed by the company.
This brief statistical report was brought to you by CanvasPaintings.com. All stats and reports are solely for education purposes.