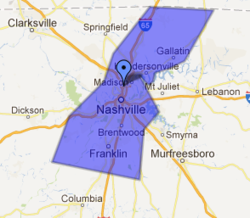 All of Davidson, Williamson and Sumner counties are included in the standard service area.
Nashville, TN (PRWEB) February 28, 2013
Homeowners, contractors and business owners in the central Tennessee area have a new service in the fight against entropy and clean living. Budget Disposal in Nashville, TN, has increased its dumpster rental and junk removal service area in middle Tennessee. All of Davidson, Williamson and Sumner counties are now included in the standard service area. Budget Disposal says they will drop off and pickup your dumpster in a professional and timely manner.
Budget Disposal utilizes a hook-lift container system for placing and removing dumpsters. This allows for maximum movement so the dumpster can be placed in the most optimal position. This also reduces the risk of damage to the yard, driveway or whatever surface onto which the container is placed. Budget Disposal dumpsters are useful for residential, construction or commercial projects including remodeling jobs, home improvement, yard work, junk removal or drywall, roofing shingles, and overall site cleanup. With sizes ranging from 10 to 20 yard dumpsters, they have the appropriate container for the job without overpaying for unused space. They offer preferred pricing for local Nashville contractors and renovators.
Having another dumpster rental company in Nashville TN. will keep the cost of removing junk and hauling off debris down via competition. Nashville is on the go, renovators and residents need a good service they can count on for container rental. Budget Disposal has a prices for junk removal in Nashville page on their website.