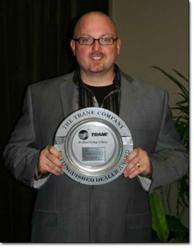 We are proud to be recognized by our customers and Trane for providing superior heating and cooling service throughout the Fox Valley Area in Illinois.
Batavia, IL (PRWEB) February 28, 2013
Confident Aire, Inc., HVAC Company receives the Trane Distinguished Dealer Award for 2012! This award was given to Confident Aire based on achieving a near-perfect customer satisfaction rating and is only awarded to approximately 3% of the top Trane Elite Comfort Specialist dealers nationwide.
To achieve this award、 Confident Aire was graded superior in overall customer satisfaction, promptness of service, technical knowledge, cleanliness, employee training, and workmanship by consumers who used their services. "We strive to maintain high standards for customer service and this award demonstrates our ongoing commitment to providing superior service in heating and cooling systems," reports Tom Wangler, President and Owner of Confident Aire, Inc.
"Many companies only survey their top 10% of clients," said Wangler, "but we submit Trane Surveys to every client we served to achieve a true and honest rating. We surveyed everyone and still earned a superior satisfaction rating." "Confident Aire, Inc. provides their customers with the best service and products possible," explained Bob Munch Jr., President of Munch's Supply Co., Inc., a Trane distributor.
The Batavia HVAC Company also earned the 2012 Super Service Award from Angie's List for the fourth year in a row. This award is earned by less than 5% of companies listed on Angie's List as most HVAC companies do not meet the requirements for eligibility of the award. Confident Aire has consistently received other local awards including "The Best of the Fox Reader's Choice Award", as voted by readers of the Kane County Chronicle.
For more than 20 years Confident Aire has been a trusted name in providing exceptional heating and cooling services to both residential and commercial customers throughout the western suburbs of Chicago, Illinois. Located in Kane County, they serve Batavia, West Chicago, St. Charles, Aurora, Warrenville, Winfield, Elgin and other surrounding towns.
Confident Aire is located at 416 East Wilson Street, Batavia, Illinois 60510. For more information contact Confident Aire at 630-761-9007, email elvira(at)confidentaire(dot)com or visit http://www.confidentaire.com/