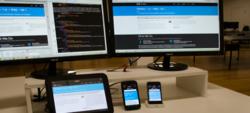 Responsive development has been a growing trend over the last few years and it's only going to accelerate
Scranton, PA (PRWEB) February 28, 2013
Responsive web design company Otreva announced the launch today of a new device agnostic, mobile friendly, responsive web design. Otreva is a Scranton, PA based web strategy shop that helps clients reach their audience by building remarkable, user centric web products.
"Responsive development has been a growing trend over the last few years and it's only going to accelerate" said CEO Michael Averto. "We're contacted all the time with the question of how to make a website mobile friendly. While responsive isn't always the answer, it is a great solution for most problems we see."
The goal of the new http://www.otreva.com is to show potential clients the importance of delivering content to any device and presenting it in a way that makes sense for the screen size of the reader's device. Responsive web design is a website that serves all devices on the same set of URLs, with each URL serving the same HTML to all devices and using just CSS to change how the page is rendered on the device.
"Designing for 4 corners no matter what the distance is between them is the foundation of our strategy. By creating a device agnostic codebase, we can allow our clients to create and update content from a single backend while giving them the confidence that their users will have a great experience regardless if they are sitting in front of a 60" HDTV or a tiny smartphone screen" said Averto.
When visiting the website, the responsive functionality can be tested on a computer by simply adjusting the width of a browser window. When making the browser window its narrowest, the website will adjust to look like it would on a mobile device.
About Otreva
Otreva, LLC is a full service web strategy company focused on providing clients device agnostic web products. Otreva's team is comprised of experienced developers, designers, and strategists having extensive knowledge of technology with B2C and B2B operations. The firm's headquarters is located in Scranton, PA.