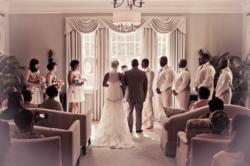 Many couples find that their wedding ceremony and reception flies by. When you reserve the Inn, the bride and groom have the opportunity to spend time with out of town guests that have traveled to celebrate."
Durham, NC (PRWEB) February 28, 2013
Durham's luxury Inn, The King's Daughters Inn, will host over 30 weddings in 2013. While many couples host their ceremonies and receptions at the boutique Bed & Breakfast, the latest trend at the King's Daughters Inn is to reserve the property as a wedding headquarters.
The King's Daughters Inn becomes the meeting point for family and friends to enjoy a small, boutique experience while the large ceremony and reception are held at another event space. The Inn specializes in hosting wedding parties for the weekend. According to the popular wedding website, weddingbee.com, "If you stay at the same hotel where you reserve a room block, sometimes you can get a discounted or free room for your wedding night". Not only does the Inn extend a 15% discount off all regular overnight accommodation rates, but the property includes all three event spaces free of charge when you reserve the seventeen hotel rooms. The entire hotel is for the wedding party and has full access of the property. This is a major benefit for many couples. The King's Daughters Inn Events Director, Samantha Kozub, notes "Many couples find that their wedding ceremony and reception flies by. When you reserve the Inn, the bride and groom have the opportunity to spend time with out of town guests that have traveled to celebrate." Couples utilize the event spaces for rehearsal dinners, bridal luncheons and a place to get ready and pampered the day of the wedding. With a full hot breakfast in the morning included in their stay, the wedding party has energy all day long.
The King's Daughters Inn has gained a local and national following of supporters and patrons. Located in the heart of Trinity Park in downtown Durham, the Inn is the best of both worlds. It blends the charm of a historic bed & breakfast with all the modern amenities of a luxury hotel. The Inn offers afternoon tea with homemade scones and muffins, as well as turndown service with port and chocolate truffles. Full, hot breakfast is served every morning including homemade granola, made-to-order eggs, waffles, grits, and much more. Complimentary wireless internet, in room iPads, large 42" HDTVs and an in house massage therapist complete the Inn experience.
To follow our wedding events and updates, follow The King's Daughters Inn's blog at http://blog.thekingsdaughtersinn.com/ or Facebook at facebook.com/kdinn or sign up for our mailing list at kingsdaughtersinn.com.