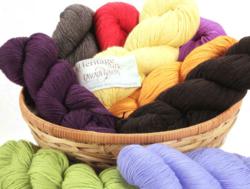 Paradise is excited to offer even more Cascade Yarn to it's customers. The quality of Cascade Yarn is excellent and the color range makes it one our best sellers.
Spokane, WA (PRWEB) February 28, 2013
Paradise Fibers will begin offering two new lines of yarn from Cascade Yarns starting March 1st. The two new lines are Cherub Aran and Heritage 150 yarn. Cherub Aran is the thicker version of the popular Cascade Cherub DK already in the store. The Heritage 150 is the big sister of the Cascade Heritage Sock Yarn which has also turned some heads this last year with some great new colors and knitting patterns.
Free Knitting Patterns are available for all of these yarns on the Paradise Fibers website and will be printed and sent free with purchase of Cascade Yarn. Paradise is proud to offer high quality yarn form Cascade Yarns and excited to get these new yarns into the shop.
Cascade Yarns is located in Seattle, WA and has been making high quality knitting yarns since you were knee high to a grasshopper. Needless to say they know their stuff and it shows in their products.
Paradise Fibers has been in business since 1995. The company is family owned and operated and consists of a variety of Romine family members young and old with a sprinkle of dedicated fiber junkies and stunt men.
Contact:
Travis Romine - The Captain
info(at)paradisefibers(dot)com
http://www.paradisefibers.com