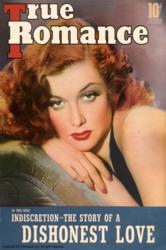 "We are pleased to announce our TruLove license with art.com inc.," says CEO Cynthia Cleveland.
Los Angeles, California (PRWEB) February 28, 2013
BroadLit, a multi-level media company, is bringing the world of vintage and new romance content to women through its new line of licensed TruLove ® products using images from nearly 100 years of True Love and True Romance Magazine covers and content. By combining the popular genre of romance with the emerging world of new media technology BroadLit is putting a vintage hip slant on romance and delivering it to today's women. With the launch of its online romance hub TruLOVEstories.com, BroadLit is featuring licensed merchandise, ebooks, mobile games, and other community-building features to fulfill every romance seekers desire for more.
"We are pleased to announce our TruLove license with art.com inc.," says CEO Cynthia Cleveland. "Art.com will produce posters, art prints, giclee prints, photographic prints, wall murals, wall decals, prints on canvas, and other related products using our beautiful magazine covers primarily from the 1920s, 1930s, 1940s, and 1950s. They already offer about 70 of our images on their website."
BroadLit's licensing representative, Sinclair Global Corporation, secured the license with art.com. Sinclair is currently in discussions with a wide range of other potential licensees that produce items from beauty products to greeting cards, apparel and on behalf of BroadLit's TruLove merchandising and licensing program.
According to Chief Marketing Officer Barbara Weller, "Art.com is the perfect license because its products will become a showcase for all the beautiful images contained in our wholly owned portfolio. We are delighted to have the opportunity to re-introduce these beautiful images to today's market where there is great appreciation for 'vintage cool' items."
BroadLit is unique in that it brings to the market a combination of classic and new romance material through many multi-media channels. BroadLit, which purchased nearly 100 years of the assets of True Romance and True Love Magazines, including not only the vintage cover images now being licensed, but also women's stories about both true love and love gone bad. It is bringing to life this extensive archive of vintage and new love stories by publishing the on-going series of short story collections – the TruLove Collection series.. The first eight collections are available to purchase wherever ebooks are sold. The next two collections are scheduled for publication in May and June of 2013. All BroadLit books are distributed by Perseus Books' Constellation Services.
BroadLit is not limited to licensed merchandise and romance stories. Recently, the company launched its first mobile game – Girlfriends Strike Back – for iOS and Android devices. The game is designed specifically to appeal to the huge market of female casual gamers worldwide. "Who hasn't had a bad boyfriend at least once in their lives? This game gives angry girlfriends a chance for revenge all in the name of fun," says Ms. Cleveland.
ABOUT THE FOUNDERS OF BROADLIT
Cynthia Cleveland, Chief Executive Officer, has run retail, gift and entertainment businesses, ranging from venture capital supported to worldwide divisions of Fortune 500 companies. She has also developed, launched, and managed hundreds of domestic and international consumer brands.
Nancy Cushing-Jones, Chief Publishing and Transmedia Officer, has run worldwide publishing and interactive game licensing programs for a major film and television studio and developed new fiction and non-fiction programs for both adults and children, many of which have appeared on the New York Times bestseller list.
Barbara Weller, Chief Marketing and Creative Officer, is a proven media/communications specialist, who has created network and cable television and video programming, developed affinity programs and produced national magazines for various audiences. Ms. Weller is a veteran newspaper journalist and editor and has launched numerous nationally syndicated columns.
ABOUT BROADTHINK:
Broadthink, founded in 2002, is a media, marketing, branding, and business development company dedicated to optimizing the visions of its clients. Broadthink's three partners, Cynthia Cleveland, Nancy Cushing-Jones, and Barbara Weller, are recognized throughout the entertainment, consumer products and publishing industries as experts in content translation from one medium to another. The Los Angeles-based company offers its clients a rich menu of services ranging from business evaluation, brand planning, product development, strategic consulting, and business start up, to business management.
Broadthink's clients include bestselling authors (Dean Koontz, Janet Evanovich), publishing companies (Random House, Scholastic Books), media companies (Viacom, HBO), toy and game companies (Mattel, Atari) and award-winning performers (John Lithgow). For more information visit broad-think.com
Media Contact
Stacia Kirby
+1-206-363-1492
Stacia(at)speakeasy(dot)net
Company:
Art.com inc.
2100 Powell Street, 13th Floor
Emeryville, CA 94608