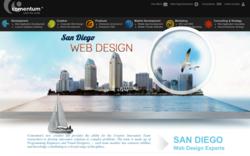 Comentum builds web applications for business growth and success.
San Diego, CA (PRWEB) February 28, 2013
The Comentum team is so focused on their expanding development, that it's part of their name (company with momentum). Because of their rapid growth in web application development and the mobile and social applications in the recent years, the company now needs to move to a larger space.
The Space Needs
Comentum is looking for a space not only for developing projects and writing code, designing web applications, researching, inventing and patenting, communicating, meeting and mingling, but the building must also have space for their secure data center, a recreation area for basketball, foosball and professional workout equipment, an entertainment area for the wall sized TV and movie screen, and a relaxing dining area with a coffee and beverage bar, and a full kitchen that can serve food all day -- breakfast, lunch and dinner.
Growth for Comentum's Customers
Because the development of custom business applications is Comentum's specialty and core business, the word is spreading and new customers are finding the source where they can have their dream applications tailor-made--designed and developed specifically for their industry and unique focus. By creating cutting edge applications for businesses in San Diego and the U.S, Comentum's customers have the ability to quickly surpass their competitors and expand, as Comentum is expanding, in new and exciting ways that bring revenue and company growth.
Increased Growth for Comentum
In addition to their core business of highly complex and specialized mobile and web application development and design, Comentum has been working on their own projects that will be rolling out as a suite of business and ecommerce products this year. With the increase in momentum toward business-on-the-go, there is more need for mobile business products and talented engineers and designers to develop them.
Comentum Hires Talented Staff in San Diego
Instead of outsourcing work overseas and keeping only a small administrative staff, as many web design companies in San Diego are doing, Comentum does all of their work at in their San Diego office headquarters and hire all of their staff to work here in San Diego. Comentum hires experts in their fields of web application development, native mobile application development, custom web design and branding, project management, customer relations, Internet technology and networking, sales and business.
Comentum builds web applications for business growth and success.
About Comentum - Since 1996, San Diego based Comentum® Corporation is a leading enterprise solutions company consisting of seven experienced and specialized divisions:
Custom Mobile Development
Custom Web Application Development Services
Corporate Web Design
Comentum eCommerce and CMS
Marketing and Research Services
Discovery and Strategy Services
Technology Services
Contact Information
Corporate Office:
Comentum Corporation
6222 Ferris Square
San Diego, CA 92121
800-449-1920
http://www.comentum.com