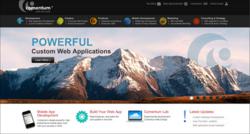 Comentum builds web applications and mobile apps for your business success.
San Diego, CA (PRWEB) February 28, 2013
Now available and included as the most complete and full-featured Comentum eCommerce Software Package.
This release of Comentum eCommerce software package has all of the essential features that any business would need, including the new Mobile Friendly version.
As a promotional offer, and for a limited time, Comentum is offering its full package Comentum eCommerce Software Power Version with the following modules for under $10,000 to qualified small businesses:
Comentum eCommerce Software Power Version
Custom Design
Marketing: SEO & SEM
Content Management System
Comentum Blog
There are substantial advantages and benefits for using Comentum eCommerce platform and working with the Comentum team.
Best Support
Comentum provides the highest level of support and customer service - the Comentum team works closely with clients to design and build a successful eCommerce store.
Design, Marketing, Custom eCommerce, Web Application and Mobile App Development
Comentum's team have specialized knowledge and experience in each aspect of an eCommerce project:
Custom eCommerce Development
Design and Branding
Search Engine Marketing
Social Media Marketing
Web Application Development
Mobile App Development
Experienced team creating high quality eCommerce applications with performance and security
Comentum's team members are experienced and have been building eCommerce applications since 1999.
Comentum eCommerce Software is ranked as the highest performance in its class.
In the recent eCommerce Platform Comparison Benchmark using ApacheBench, Comentum eCommerce delivered 162 Requests per Second compared to its competitors' applications which delivered 90, 39 and 11 Requests per Second.
This performance is impressive and will improve any customer's experience using theComentum eCommerce platform.
Additionally, Comentum's eCommerce has implemented the most security protocols to prevent security breaches to the application.
The new Comentum eCommerce Power Version has an extensive Inventory Management System; for example, an store administrator can:
Manage Inventory quantity on-hand, inventory quantity back-order with vendors, place purchase orders, and run full inventory status reports
Manage drop-ship inventory items and interface and communicate with the vendors
Manage Purchase Orders
Manage Inventory Logistics
There are many new extensive customer relationship and sales relationship features for the store administration such as:
Ability to create a sales group that can manage phone sales with ease, with advanced sales commission reports
Ability to create a customer relations group that can manage customer service and returns
Ability to create an order fulfillment group for managing orders and logistics
Social Media Marketing
In the front-end, Comentum eCommerce Software has all of the essential eCommerce features plus the best features and flexibility for customizing the design, branding and functionalities:
Mobile Friendly Version
Advanced Inventory Management System with Configurable Products and Accessories
Advanced Order Management System with Extensive Vendors Management Module
Built-in Search Engine Optimizations and URL Friendly
Related Products
Up-sell - people also viewed or purchased similar products
Built-in Reviews
All of the above benefits that Comentum provides will create a recipe for a successful eCommerce Business.