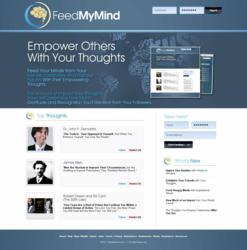 "Constantly Feeding Your Minds with Positive Thoughts is One of the Greatest Investments You Can Ever Give Yourself."
(PRWEB) February 25, 2013
Free interactive website is building a community of positive people sharing positive thinking quotes, inspirational quotes and sayings, and daily celebrity videos that motivate and inspire people to improve their lives and fulfill their dreams.
Since early May 2012, FeedMyMind.net has been sharing positive thoughts about life, inspirational quotes by celebrities, and motivational videos that fuel visitors' minds, spark their imaginations, and help them achieve their goals.
The purpose of the site is to make a difference in the world at large by providing a place where a community of like-minded people can gather not only to improve their own lives but also, as site owner and administrator, Toussaint Perez, puts it, to "share positive thoughts—those empowering, inspirational words of wisdom—with (their) friends and acquaintances." In this sense, the inspirational positive thoughts, moral support, and words of wisdom members share within the community can spread far and wide, releasing even greater benefits as they reach beyond their immediate circle, impacting an ever-expanding sphere of influence.
The watchword of the site is "Share Positive Thoughts to Start Feeding Minds!" The inspiring videos and positive thinking quotes by celebrities are supplemented by an extensive collection of celebrity stories and other inspirational posts on the FeedMyMind blog. The site's store also offers various self-help resource materials written or presented by a number of popular motivational and inspirational speakers, including the following, among others:

Zig Ziglar
Tony Robbins
Deepak Chopra
Napoleon Hill
Jim Rohn
Stephen Covey
Wayne Dyer
Oprah Winfrey
Jack Canfield
Perez is enthusiastic about his new inspirational endeavor and is encouraging people to hop on board, saying, "Join feedmymind.net for free to inspire and get inspired. Get that motivation you require!" Perez hopes that interest in the site and its positive thoughts quotes and materials will catch on and grow in the coming months because, he says, "After all, knowledge is power!" As people gather online to share inspirational quotes and receive the benefits of that body of shared knowledge, he believes they will be empowered to do great things—and that's inspiring to him!
For further information about how you can be inspired and equipped for success as you share positive thoughts, short inspirational quotes, and videos within a community of other growth-oriented individuals, visit http://www.feedmymind.net