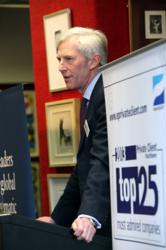 Thank you for a delightful evening
London (PRWEB UK) 5 March 2013
On 18 February 2013, Wendy Marston Events organised a successful champagne reception for Private Client Practitioner's Top 25 Most Admired Companies, with a year on year increase in the number of attendees and an increase in the interest in the initiative amongst the senior executives in the industry.
As part of Private Client Practitioner's Top 25 series, Top 25 Most Admired Companies initiative is designed to identify, recognise and promote the leading firms and companies of the private client professions. It also aims to introduce the senior and key members of staff from the Top 25 Companies/Firms for each of the four different disciplines that are covered by the Top 25 series – Law Firms, Accountancy Firms, Trust Companies and Financial Planners. The champagne reception, held at Bonhams in London, included guests from the leading UK and UK offshore private client firms, such as Grant Thornton, Deloite and KPMG. The reception was also attended by members of the PAM Awards Judging Panel and the Top 35 Under 35 Private Client Practitioners winners.
Wendy Marston Events is a specialist event planner, focusing on the organisation of awards programmes and their associated receptions, dinners and meetings, from small roundtable breakfast meetings to gala award dinners. Wendy Marston, founder and director, has been managing the PAM Awards for PAM Insight, the company behind Private Client Practitioner, for over 10 years, and in 2012 has took over the organisation of their remaining suite of awards and events.
"I'm so pleased that we have built on the success of the Top 25 initiatives, year on year, and hope that we can continue to have a positive impact on how the industry views these important initiatives," says Wendy Marston, founder and director.
Bonhams provided an impressive backdrop, featuring the paintings from their Prints sale, which took place on 20th February. Catering was provided by Bonhams. The champagne was Louis Roederer Brut NV.Photographs were taken by Barney Jones Photography. Plaques produced by Awarded2U were later handed out to the winners. Sponsor Sarasin & Partners and supporters Risk Assured welcomed guests with a brief speech, and an introduction by Ed Hicks, managing director of PAM Insight, the company behind the initiative.
Both the reception and the initiative have received positive feedback.
Thank you for a delightful evening and a lovely surprise to have made it into the Top 25 Most Admired list – we are all very pleased and proud. – Partner, Penningtons
Companies interested in improving the return on their events and awards programmes can contact Wendy Marston at Wendy Marston Events.