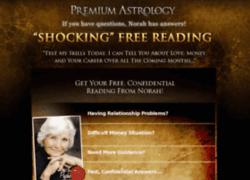 Wow awesome amazing info I feel that I really need to listen to what I'm being told and be true to my self, that way I can build a stronger foundation for myself and my family. A. – Libra
Phoenix, AZ (PRWEB) March 08, 2013
For those that are kept up at night with questions that plague them and stress from the world, Norah can help. World Astrologist Norah is now offering detailed astrological reports free to the public.
Taught by her Mother, Norah learned early on how to map someone's future based on astral configurations derived from detailed astral chart reports.
Learn about the Ancient Art of Astrology, Zodiac Influences, and receive fast insightful reports.
Read the compelling testimonials from happy users.
Testimonials-
"I was really quite surprised to come face to face (or face to screen) with such an accurate description of my personality and what really motivates me. I am still trying to take it all in and what it means going forward, but to see quoted back to me my own phrase when faced with less than optimal situations in life, i.e. "it is what it is", was really impressive. "Knowledge is power", and, better understanding of myself will, I hope, clear the paths ahead. I am not saying that I understand everything advised in the context of the transitory period ahead, but I am going to try to "think my way forward" in the ways advised. Thank you, Norah. " M. – Pisces
"Many of the things you described about me are so true. I am excited about finding the emotions that I have buried and hopefully why I have buried them. I will definitely be more aware of my thoughts and emotions. I am going to continue to grow and hopefully find a more happier, content me!" T. – Aquarius
Read more testimonials and become one when you try Norah's free detailed astrology report.
Users get free astrological guidance, detailed reports on current and forecasted transits with the Transit Guide, and free gifts.
Let Norah offer guidance to your questions, visit https://premiumastrology.com/ for more information and offers and to take advantage of the new free service provided by Premium Astrology through Norah Guide. Don't just read her testimonials, become one of them!
About Premium Astrology
World-renowned Astrologist Norah uses vast knowledge of astrology and the mystics with incredible accuracy to offer spiritual guidance on life's hardest questions. For more information about Norah and her unique "clairvoyance" visit: https://premiumastrology.com/