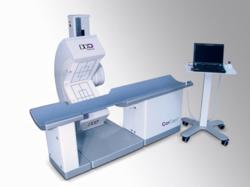 CorCam is the next generation of excellence in Cardiac Imaging, continuing the DDD tradition as market leader within nuclear cardiology imaging, now as an OEM manufacturer.
Washington, MO. (PRWEB) March 11, 2013
Universal Medical Resources Inc. will start distributing the newest product from DDD-Diagnostic A/S. The CorCam™ is pending 510K approval and is expected for distribution at the end of the 1st quarter of 2013. The CorCam™ is the next line of Cardiac Camera's that DDD has manufactured.
Features:

Fixed 90-degree detectors
Two matched detectors for increased throughput and superior image quality
Two 3/8" crystals with 14.6" x 8.5" field of view (FOV) detectors
24 high-resolution low-profile photomultiplier tubes per detector
High-performance detector electronics providing excellent resolution
Auto Gain, Energy, Linearity, and Uniformity corrections
Preprogrammed gantry motions with digital LED displays
Full complement of Nuclear Cardiology clinical software
Compact integrated design to fit into a 10' x 11' room (supine/prone long table)
Dedicated maintenance and tuning process for stability and reliability
4DM SPECT, Cedars QPS/QGS, or Emory Cardiac Toolbox software available
The system is a fixed 90-degree dual detector high-resolution camera. The product is the latest in the dedicated cardiology style of Nuclear Medicine Camera's DDD has developed dating back to the Optima® dedicated Cardiology camera. This will be the 5th Imaging Camera that UMRi will be distributing that DDD has developed.
The four other systems are the:
QuantumCam™ is a "no-nonsense" general-purpose camera with minimal room size requirement. In fact, no other SPECT system in the market has such a small footprint and still full flexibility in detector positioning, offering versatile use for both whole-body procedures, SPECT, Cardiac SPECT and planar imaging procedures.
With its translating gantry and fixed patient bed, QuantumCam™ offers a very open, non-claustrophobic, modern & appealing design for improved patient comfort and ease of use.
SoloMobile™ supports a range of planar procedures such as imaging of the thyroid gland, parathyroid, multigated cardiac and sentinel node. The adjustable gantry and detector configuration accommodates imaging procedures with patients sitting or standing in front of the camera as well as patients lying on a hospital stretcher or gurney.
SoloMobile™ is designed to be moved within a nuclear medicine department, through hospital corridors or in patient rooms for bedside imaging. When built-in battery pack is fully charged, SoloMobile™ can image patients for one hour. If additional imaging time is required, SoloMobile™ can be plugged into any standard wall outlet.
SoloMobile™ includes a laptop PC-based intuitive graphical user interface featuring both image acquisition and processing. Persistence scope and energy spectrum display are integral parts of the acquisition functionality.
The SOLO™ is a versatile, cost-efficient and compact gamma camera system designed for use in hospital environments, outpatient clinics or private office settings. Its low-profile detector can be positioned to perform a large range of planar procedures such as imaging of the thyroid gland, parathyroid, multigated cardiac and sentinel node.
Solo™ is designed to take up minimal space and offers unobstructed access between the detector and the patient. The supporting base plate is easily mounted to the floor for a permanent and safe room installation.
The NephroCam™ is optimized for seamless radioisotope renography. The camera is designed as a workhorse camera in a busy nuclear medicine department. Thus NephroCam™ workflow requires only a minimum of operator interactions.
The large field of view detector will image almost all patients without having to be positioned. In cases where detector positioning is needed, a manual solution is provided on the detector to slide it to the correct position.
NephroCam™ comes with DDD's new .NET-based ClearSight acquisition software packages. Like NephroCam™, ClearSight has been designed with simplicity and user friendliness in mind.