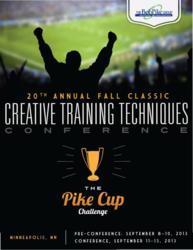 What a rewarding opportunity to learn new ideas and revisit forgotten ones. Thank you for organizing and developing a conference that is above and beyond the industry standard.
Minneapolis, MN (PRWEB) March 28, 2013
The Bob Pike Group announces the details of its 20th annual Fall Classic. The three-day event provides trainers, consultants and Talent Development Managers with the latest tools, techniques and best practices in the classroom as well as online training.
The Creative Training Techniques Conference will be held at the DoubleTree by Hilton in Minneapolis, MN. Pre-Conference workshops will be September 8–10 and Conference sessions will run September 11–13, 2013.
This year's conference theme is "The Pike Cup Challenge." Trainers are like sports coaches. Part of their job is to transmit skills. Another part is to build cohesion and promote teamwork, while sometimes the need to inspire team members. The 20th Annual Creative Training Techniques Conference sports theme will touch on many aspects of training both as part of a team and as an individual.
As any competitor knows, some skills come easily, and some demand an enormous amount of commitment, dedication and, well, training. No matter where an athlete is in his or her professional career, there is always room for improvement, and personal trainers play a role on professional teams as well as in individual sports. Everyone can benefit from a coach or trainer's objective perspective on performance.
The finest competitors know that to compete at elite levels, a holistic approach needs to be taken and focus on all aspects of the game and not just the physical. Many times, it is the mental component of the sport that will often determine the outcome. Composure, reliability, teamwork, a positive attitude, and the ability to fiercely face a challenge all go into the making of a champion.
The conference offers an adrenaline rush of an alternative to lecture-based training. At this year's conference, there are 36 different sessions and four certificate programs (Delivery, Design, Virtual Training, and Facilitation). This conference also gives an intimate opportunity to network with The Bob Pike Group training consultants outside of the classroom, a valuable opportunity no other conference offers.
This year's Pike Cup Challenge has all the elements of the big game. Learning, training and competing. Perhaps there won't be blood, sweat and tears, but the camaraderie, accountability and insights gained will be unlike any other training event attended.
For more information, visit http://www.bobpikegroup.com/fall and download the full brochure.
About The Bob Pike Group
The Bob Pike Group has provided train the trainer workshops and consulting services to individuals and corporations for more than 30 years. Bob Pike is the pioneer of the participant-centered training method and has a well-earned reputation as "the trainer's trainer." More than 125,000 people have gone through his Creative Training Techniques Boot Camp and more than 200,000 copies of his Creative Training Techniques® Handbook have been sold. There simply is no one in the training industry as well known and respected as Bob Pike. The Bob Pike Group trainers take those same methods and passion for learning and funnel them into interactive sessions in any training platform or mentoring format.