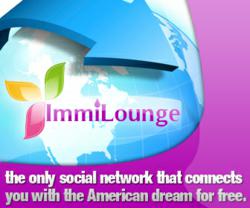 All good Ideas need good financial backing. Especially those that aim to help.
(PRWEB) March 21, 2013
ImmiLounge has launched an Indiegogo project in order to fund it's future ventures. Being the only decentralized, open source, social network that aims to help people with their needs, ImmiLounge believes that through this new Indiegogo project, they will be given a better chance to extend their assistance to a bigger number of individuals and turn their American dream s into a reality.
Since there are lots of people who dream getting a visa, or becoming a legitimate American citizen, getting the assistance of ImmiLouge is the best option. ImmiLounge is actually the only social network that gives emphasis on immigration. It helps people get easy access to updated information on healthcare, accommodation, and jobs, mostly connecting interested people with the American dream and a whole lot more for free. On the other hand, ImmiLounge also encrypts all information shared by the user, allowing it to be the users, distinctive property. So it is a very unique website, created by a man with unique views.
With the use of this social network, people who have the American dream could now easily achieve their goals. ImmiLouge is an American settlement and immigration online community, which is made up of an American Diaspora together with the people from all over the world. Due to the collective experience and knowledge of the engaged and growing community, ImmiLounge has become the perfect place wherein people from in and out of America could work to make their American dream turn into reality. An individual outside of America, can get all the information required to move and live in America, without even stepping into the States. The power ImmiLounge holds, is one that can change a lot of peoples lives, for the better.
ImmiLounge basically targets those in need of a visa or any immigration help. This site then links these people with what they need in order for them to live an independent and stable life during their stay in America. The social network was primarily established for the improvement of the immigration process in America, helping millions of individuals by linking them with what they truly need, while at the same time allowing them to share and communicate.
The network also offers services like immigration forms, resume creation, tools helping people apply for statuses and curtain visas and other promotional tools all for free. The entire information posted in the website is not owned by the company, as they are an open source, decentralized, social network aiming to assist people.
The network is now launching their Indiegogo project for the better improvement of the site and so as to help more people in the long run. It has proven to be very expensive to independently help people for free. Given that Immilounge does not have shareholders, financing has always been the downfall of ImmiLounge. Through this Indiegogo project, interested people will be able to work hand in hand with ImmiLounge, to help millions of people. Every penny that will be placed in this project will surely receive its corresponding worth. For more information directly from the ImmiLounge team, check out the project at Indiegogo.