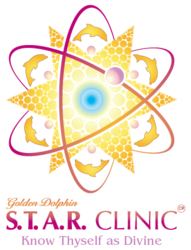 A free online meditation, Embracing the Galaxy Meditation - Enjoying the Galaxy with S.T.A.R. Wisdom, will be held March 23, 2013 at 5:30 - 6:00 (Arizona time.)
Tucson, Ariz. (PRWEB) March 07, 2013
To better serve an ever-expanding global community, the S.T.A.R. Clinic (an acronym for Surrender, Trust, Allow, Receive) is adding new, online options to the upcoming Spring Clinic, Becoming a Galactic Citizen.
In addition to the live, in-person event held in Tucson, AZ, the Spring Clinic will include options for participation via online webcast, and, for the first time, will offer a free online meditation and community broadcasts which will bring people together in various regions to participate as a group through the livestream option.
The Spring Clinic, held from March 22-24, 2013, will feature keynote speaker, William Henry, an author, Investigative Mythologist, and host of "Revelations" Radio. Other speakers will include author and spiritual visionary, Nina Brown, harmonic mathematician, Randy Masters, Ph.D., galactic astronomer, Norma Tarango, and trans-dimensional healing practitioner, Vladimir Turek, among others. It is planned to be a weekend of inspiration and personal reflection, focusing on the topic of expanding beyond individual and planetary consciousness.
Both in person and virtual participation will be available. The Clinic will offer several presentations throughout the weekend, including Henry's, webcast via livestream. Community Center Broadcasts are expected to be available to encourage participants to join with others in their area and experience the webcast together. A free online meditation, 'Embracing the Galaxy Meditation - Enjoying the Galaxy with S.T.A.R. Wisdom', will be held March 23, 2013 at 5:30 - 6:00 (Arizona time.)
For more information about the Spring S.T.A.R. Clinic or the virtual attendance options, visit: http://www.crystalsinger.com/events/mar-222324-tucson/
About the S.T.A.R. Clinic:
The S.T.A.R. Clinic was founded by Nina Brown to provide a service of healing and education to communities around the world. It hosts conferences, webinars and intensives, and offers a line of Quantum Tools which help spread the central message of Brown's book, Return of Love to Planet Earth, Memoir of a Reluctant Visionary: inspiring and supporting participants to awaken to their human-divinity. Brown's new book, which further expands into the teachings of the S.T.A.R. Clinic, S.T.A.R. a NOW State of Being, will be available March 2013. For more information, visit: http://starclinic.org/