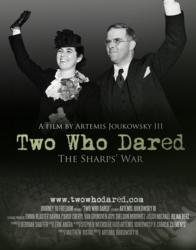 "Our mission is to inspire the next generation of Martha and Waitstill Sharps. Share your story of when you dared to make a difference!"
Artemis Joukowsky III
Boston, MA (PRWEB) March 01, 2013
There will be a special presentation of the documentary film, Two Who Dared: The Sharps' War in Boston on March 13th. Hosted by the United States Holocaust Memorial Museum, Two Who Dared tells the story of a Unitarian minister, Waitstill Sharp and his wife Martha who, just days prior to the Nazi invasion of Czechoslovakia, left their young children in Wellesley, Massachusetts to help save thousands being persecuted in Eastern Europe. Who were these American heroes? What drove their willingness to put the well-being of strangers over that of themselves and their family?
DATE/TIME: Wednesday, March 13th at 7 pm
LOCATION: Boston Public Library
700 Boylston Street
Boston, MA 02116
PROGRAM: Panel Discussion:
Moderator: Aleisa Fishman
Historian, United States Holocaust Memorial Museum
Panelists:
Catherine Vakar Chvany, Child refugee rescued by Sharps
Artemis Joukowsky III, Director of Two Who Dared: The Sharps' War and grandson of Waitstill and Martha Sharp
The documentary is told from the point of view of Martha and Waitstill, drawing on their recorded interviews, letters and unpublished memoirs, and includes interviews with rescued children and noted Holocaust scholars.
Partnering with Facing History and Ourselves to increase educational outreach for Two Who Dared, an educational curriculum has been developed and will go out to 28,000 educators in the Spring. Facing History and Ourselves is an international educational and professional development organization whose mission is to engage students of diverse background in an examination of racism, prejudice and antisemitism to promote the development of a more human and informed citizenry.
Two Who Dared has received a number of awards and recognition:

Official Selection - 2013 Boston International Film Festival
Special Jury Prize - Amsterdam Film Festival
Official Selection - River's Edge Film Festival
Redemptive Storyteller Award - Redemptive Film Festival