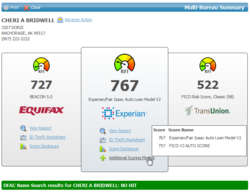 CBC, providing the advanced technology and innovative solutions your business deserves.
Fresno, CA (PRWEB) March 13, 2013
This innovative new feature speeds up the credit reporting, prospect qualifying, compliance, and decision making process. With one click of the mouse, inSight returns an instant view of up to three bureau scores, access to each credit report, and all of the vital tools needed to satisfy your regulatory compliance requirements.
Key data elements include:

Scores from 2 and 3 credit bureaus
High credit bureau score emphasized front & center
Visual Red Flags Indicator for easy risk assessment
Scoring model description for each bureau
Adverse Action letter generation link
OFAC check search results clearly color coded
Single click access to the full credit report
Single click access to the ID Theft Worksheet
Single click access to the Risk Based Pricing disclosure
Additional scoring models displayed if enabled
Co-applicant data included on joint reports
Credit bureau logo for easy reference
CBC is the only authorized credit report and compliance solution provider continually developing game changing tools and features to make the automotive, RV, motorcycle, and power sports sales process more efficient.
Credit Bureau Connection has roots in the credit reporting, regulatory compliance, sales, desking, and F&I system development fields dating back to the early 1980's. Credit Bureau Connection (CBC) has become the industry leader in forward thinking credit report and compliance solutions. CBC is one of only a few authorized resellers to the automotive industry for all three credit reporting agencies: Experian, TransUnion, and Equifax. We have established long-term partnerships with each of the credit reporting agencies. CBC is a technology oriented company focusing on superior customer service, providing state-of-the-art solutions for automotive related clients, utilizing high-end servers and hardware, managed in the most secure and redundant data centers in the world, utilizing proven web-based software technologies.