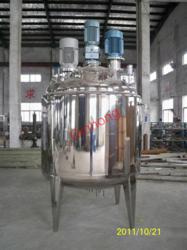 Jinhu, Jiangsu Province (PRWEB) March 17, 2013
The China based company, Ginhong, has introduced the multi shaft mixers for use in the cosmetic industry to make various creams and gels that are available to customers. The cosmetic mixer will be a beneficial addition to the line of mixers used in this and other industries.
Ginhong introduces the perfect solution for all the industry needs for a cosmetic mixer. The multi shaft mixer is designed to properly mix various types of cosmetic products including creams, lotions, waxes, gel, toothpaste and mascara. The piece of cosmetic equipment can handle a wide variety of jobs as it uses an anchor agitator which rotates in a clockwise direction. It also is equipped with Teflon blades which keep the sides scraped so that there is no material buildup. The disperser operates at 1400 rpm and provides strong shear force. The disperser can be interchanged with a batch homogenizer which is convenient for dissolving, homogenizing or emulsifying.
The cosmetic machine houses the complete process in one single unit so that it saves the manufacturer time as well as money. It is designed as a cosmetic mixer which can make pastes or emulsions that are over 100,000cps viscosity. The unit can equip an oil hydraulic lifting system which makes it easy to perform routine maintenance and keep the unit cleaned. The specs all comply with cGMP regulations. The cosmetic machine can be used for different functions such as dispersing, homogenizing of various materials, optimum multiple mixing and emulsifying. The unit has a cover with a closed design to help protect contents and keep mixtures sanitary.
Ginhong is adding the cosmetic mixer to their full line of mixers. These can be viewed online on their website http://www.ginhong.com/. They have several varieties of mixer machines that are designed to meet the needs of different industries. These top of the line mixers are used to mix substances for chemical, food, pharmaceutical industries as well as for making cosmetic products.
About Ginhong
In Jinhu, Jiangsu Province Ginhong was founded. The company had much success early on and had to relocate to larger facilities. The company has its own team of engineers which conduct their own research and then develop, design, engineer and manufacture the equipment that Ginhong makes available to industries all over the world. They market their mixers and other machinery to industries on both the international and domestic levels.