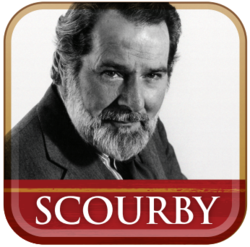 Scourby Audio Bible APPS...The Newest Way to Access the Oldest Book
New York, NY (PRWEB) March 17, 2013
Alexander Scourby, a pioneer in audio book recordings and the first ever to record the Audio Bible, is regarded world wide as "The Voice of the Bible".
In a recent survey conducted by the company last month, users reported one of the most effective tools in Audio Bible communication is voice of the narrator, the tonal quality and expressions given to each Bible verse which conveys the meaning of that verse back to the user. The users also reported that no one does that better than Alexander Scourby.
Litchfield Associates realized the potential for the Scourby Voice when coupled with the creation of the Scourby Audio Bible App and immediately incorporated the Scourby Voice into the app. Users have given the Scourby Audio Bible app high marks in ranking it number one for both the iPhone and Android mobile devices.
Users of The Scourby Bible app have given the app and the Scourby narration high praises and it's garnering a reputation of being the number one Bible for Andorid and iPhone users. The most consistent comment in the survey was how the voice of Alexander Scourby brings the King James Bible to life with new meaning and understanding and that his voice and the King James Bible was :a match made in Heaven".
The survey also revealed that users also stated that they also value the Bible App highly as an innovative Bible study tool due to its unique search and play list creation features. Prospective users can visit scourby.com, take an app tour and listen to Alexander Scourby read selected Bible passages from the King James Bible as well as seeing how easy it is to download the Audio Bible app or the Bible Mp3 download for mp3 players and or personal computers.
The Scourby Bible App is a trademark of Litchfield Associates, who owns the copyrights all other rights and interest in all the Bible narrations done by Alexander Scourby. Litchfield also owns the trade mark in the name of Alexander Scourby and controls all the distribution right for the narrations as well.