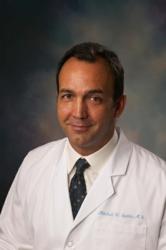 Women's health is a field that allows me to part of something special in a person's life, the birth of her child.
Columbus, Ohio (PRWEB) March 12, 2013
Women's health specialist Dr. Mitchell Spahn will join OhioHealth's Columbus medical team to see patients in a wide range of women's health and pregnancy care issues. He will see patients at the Columbus OB/GYN offices in Hilliard, Ohio and London, Ohio and deliver his patients' babies at OhioHealth Dublin Methodist Hospital.
Dr. Spahn, who completed his medical residency at Mount Carmel Medical Center in Columbus, has served as physician owner of Obstetrics & Gynecology of London since 2003. An Indiana native and graduate of the Indiana University School of Medicine, he brings 22 years of experience as an obstetrician and gynecologist to OhioHealth's team of physicians.
Spahn said he decided to become a doctor in high school, when he shadowed a local OB/GYN and saw the impact he could have as a women's health specialist.
"Women's health is a field that allows me to part of something special in a person's life, the birth of her child," he said.
Dr. Spahn will work with patients with virtually any type of women's health issue, such as pelvic pain, breast health, pregnancies and any other women's health conditions. He currently serves as the Medical Director at the Battelle Breast Care Center, a Medical Advisory Board Member for the Komen Foundation and as the Chairman of the Department of Obstetrics & Gynecology at Madison County Hospital. He is also board certified by the American College of Obstetrician Gynecologists.
Along with his experience, Spahn said he brings a compassionate approach to women's care, and works to diagnose and treat each of his patients based on their specific needs.
"My first goal in my practice is to listen," he said. "Sometimes the most important thing I can do is to listen to a patient."
Learn more about women's health physician Dr. Mitchell Spahn.
To schedule an appointment with Dr. Spahn in either Hilliard or London you may call:
Columbus OB/GYN
3750 Ridge Mill Drive
Hilliard, OH 43026
Phone: (614) 434-2400
Columbus OB/GYN
54 W. High Street
Suite B
London, Ohio 43140
Phone: (740) 852-6000
About OhioHealth
OhioHealth is a nationally recognized, not-for-profit, charitable, healthcare organization serving and supported by the community. OhioHealth has also been recognized by FORTUNE Magazine as one of the "100 Best Companies to Work For" six years in a row, 2007-2012.
Based in Columbus, Ohio, it is a family of 22,000 associates, physicians and volunteers, 17 hospitals, 21 health and surgery centers, home-health providers, medical equipment and health service suppliers throughout a 40-county area. OhioHealth member hospitals include Riverside Methodist Hospital, Grant Medical Center, Doctors Hospital-Columbus, Grady Memorial Hospital, Dublin Methodist Hospital, Doctors Hospital-Nelsonville, Hardin Memorial Hospital and Marion General Hospital. For more information, please visit our website at http://www.ohiohealth.com.