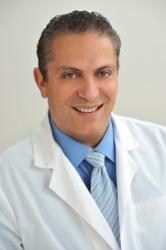 People who work in any type of dusty environment – whether it is an office or a factory – are at heightened risk of injuring their corneas.
Old Bridge, NJ (PRWEB) March 11, 2013
Prevent Blindness America is observing "Workplace Eye Wellness Month" in March, 2013 in an effort to promote vision care services in the workplace. Dr. Ilan Cohen weighs in on workplace hazards that can cause serious injury to the cornea and how workers can protect themselves.
"At least 90 percent of work-related eye injuries are avoidable, which is something I especially want to remind people of during Workplace Eye Wellness Month," said Dr. Ilan Cohen.
Dr. Cohen, director of 5th Avenue Eye Center, serves patients throughout New Jersey and New York with his state-of-the-art technology and surgical expertise for LASIK, Cataract, Visian ICL (implantable contact lenses), and other vision correction surgeries. These procedures center on the cornea, a transparent "window" that covers the front of each eye. This part of the eye is responsible for about two-thirds of the eye's focusing ability.
"Corneal injuries are among the most common eye injuries, especially in the workplace," said Dr. Cohen. "People who work in any type of dusty environment – whether it is an office or a factory – are at heightened risk of injuring their corneas."
Other risk factors for workplace eye injuries include the following:

Poorly fitting contact lenses.
An incorrect eyeglasses or contact lens prescription.
Excessive exposure to sunlight or artificial light.
"Chemicals are a key cause of corneal irritation and injuries at work," said Dr. Cohen. "Companies can better protect their employees by having eye wash stations readily available. Prompt response can alleviate or eliminate serious injury caused by splashed or spilled chemicals."
Chips created by hammering and other types of metal work can become embedded not only in the cornea, but also deeper in the eye. Protective eyewear that fits well is essential to protect people who perform hard labor.
"Injuries that penetrate the cornea are very serious and can lead to blindness and disfigurement," said Dr. Cohen. "Anyone who experiences severe eye pain, whether at work or at home, needs to see an ophthalmologist immediately or go to the nearest emergency room."
5th Avenue Eye Center is a comprehensive vision clinic with locations in Old Bridge, New Jersey as well as the Manhattan and Queens boroughs of New York City. Dr. Cohen, a graduate of Tufts University School of Medicine in Boston, was fellowship trained in corneal and cataract surgery at Vanderbilt University Medical Center in Nashville, Tennessee and Catholic Medical Center in Boston, Massachusetts. His innovative techniques and ability to correct other surgeons' mistakes has earned him international media attention on CBS, CNBC, and FOX News.
For more information or to schedule a consultation with Dr. Cohen, call 5th Avenue Eye Center at (212) 764-2020 or visit http://www.worldclasslasik.com.