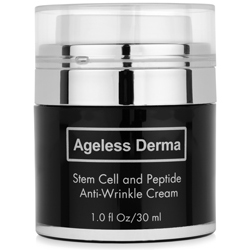 Anaheim, California (PRWEB) March 25, 2013
The luxury skin care company, Ageless Derma, is calling for women, aged 25-60, to test one of three selected skin care products. The chosen women will be picked at random and asked to submit video reviews of the products they've been selected to sample for 30 days.
A choice of one of three different anti aging skin care creams is being offered as part of the special event for women to use and then review. One of the products on the block for review is the Ageless Derma Stem Cell and Peptide Anti Wrinkle Cream. This particular anti aging cream is an innovative product that protects the skin and improves the appearance of fine lines and wrinkles. Ageless Derma Stem Cell and Peptide Anti Wrinkle Cream offers women a way of redefining the strength and suppleness of their skin, relaxing Crow's feet around the eyes, and generally re-energizing facial skin, giving one a more youthful look.
This Ageless Derma Anti Wrinkle Cream contains natural yet powerful ingredients. The plant stem cells and natural peptides work on reversing the ravages of aging skin. The special ingredients found within this product have been lab-tested, using methodical scientific research in order to demonstrate its capacity for a dramatic renewal of the skin's appearance.
Women interested in this media event also have a choice of the two other anti aging products. There is Ageless Derma Retinol and Vitamin K Eye Cream and Ageless Derma Anti Aging Intensive Skin Brightener. Each has a different function to perform for beautifying the skin.
The Retinol and Vitamin K Eye Cream designed by Ageless Derma is a new treatment to reduce the signs of aging that often first appear around the eyes. This unique formula pairs Retinol, the most pure form of Vitamin A, with other vitamins, such as K, C, and E. Vitamin K, in particular, is a strong ingredient as it works to heal damaged skin. This combination of natural ingredients softens dark shadows beneath the eyes, irons out delicate lines and deeper wrinkles, and improves the skin's overall texture in that delicate area.
The Skin Brightening cream offered up by Ageless Derma will lighten the users' dark spots and hyperpigmentation issues as it brightens the overall facial complexion. This cream to be tested also softens the skin, making it feel smooth and relaxed. The Skin Brightener takes care of freckles, dark spots, and other changes in skin pigment as a result of a multitude of issues, either due to medication being taken or spots achieved due to being pregnant. This anti aging cream is enhanced with both natural and bio-engineered ingredients that lighten and whiten the skin without any detrimental side effects.
Those women entering the video review event are asked to visit either the Ageless Derma Facebook or Twitter page. Once there, contestants should let the Ageless Derma Company know which of the three products they wish to use and then review via a self-made video.