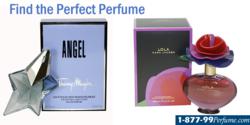 For first time perfume buyers, keeping it simple is the best way to go with a fragrance that falls into the floral/fruity category.
Manalapan, NJ (PRWEB) March 06, 2013
The online discount fragrance store, 99Perfume.com, gives new buyers advice on finding their first perfume. By using this information, first time buyers can easily narrow down their search to find a designer perfume or cologne to call their own.
Shopping is a favorite activity among women everywhere, and online shopping is becoming more popular as well, mostly because of its ease and convenience. However, online perfume shopping is a different story for most women. A majority of newcomers have never smelled the fragrance or cologne they are looking at before, so it can be very difficult to find the right scent that agrees with ones personality and preference.
For first time buyers', keeping it simple is the best way to go and it is recommended to go for a fragrance that falls into the floral/fruity category. A perfect example of this is the much loved Lola Perfume by Marc Jacobs, because it is great for casual wear, special occasions, and it is an absolute favorite amid women from the ages of 18-40.
The floral/fruity category will make buying a first fragrance easiest for newcomers because they are known to compliment most people fairly well. Statistics on BankRate.com name the the floral category "the largest, and most popular category" among all competitors. Floral notes typically include: Iris, rose, jasmine, gardenia, plum, apple, pear, and berry.
If buyers enjoy scents from the floral category it is also likely that they will share that fondness with scents in the citrus family as well. These aromas are full of life and energy and are perfect for daytime wear. Notes most commonly include: lemon, orange, bergamot, grapefruit or mandarin, with other aromatic and tart notes for men and floral notes for women.
If the first two categories are not appealing, the oriental category is also largely complimentary and fitting for most people. The notes consist of spices, amber, balsams and resins that suggest warmth and exotic sensuality. "Because of the group's rich, musky traits, these luxurious scents make the best statement in the winter", says Rochelle Bloom, president of the Fragrance Foundation.
Before any scent can be chosen, the buyer must understand exactly what it is that they are purchasing. One of the easiest ways to understand an aroma is to break it down by the different notes of the scent. "Notes" is just a fancy way of describing the fragrance at its different points of potency. Fragrantica.com outlines the different notes as follows;
•Top notes: What you smell immediately upon applying your product. It's the scent that first hits your nose, but then evaporates quickly.
•Middle notes: Emerge as the top notes are dissipating and make up the majority of the scent.
•Base notes: Richer and are not often detected until you've been wearing a scent for at least 20 to 30 minutes. These notes provide depth and back up the middle notes to create the overriding theme of the scent.
By helping their customers understand the different notes that make up a scent and the category they belong to, the company hopes to make finding the perfect scent an easy and pleasant experience for first time fragrance buyers.
About the Companies:
99Perfume.com, was one of the first discount perfume stores to go online, establishing their online store way back in 1996. Thanks to a proven model, a great service record and a loyal customer base, the boutique is now able to offer over 10,000 fragrances for both men and women, a variety of gift sets and many other health and beauty items at deeply discounted prices.
Fragrantica.com is an online encyclopedia, magazine and community of fragrance lovers. Fragrantica informs their readers about new launches, updates, and news on famous as well as less-known scents.