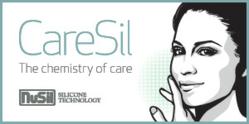 "NuSil's expertise in regulatory support stems from our legacy in the medical industry," said Brian Nash, Vice President, Sales and Marketing. "This connection to the human body and human life has shaped the mentality behind our skin care silicones."
Carpinteria, CA (PRWEB) March 12, 2013
NuSil Technology LLC (http://www.nusil.com), the global leader in silicone materials for the healthcare, pharmaceutical, drug delivery, and aerospace industries, presents CareSil (http://www.caresil.com), a new business unit in silicone materials for skin care, and its namesake line of silicones for this industry, designed first and foremost to help care for skin. CareSil combines NuSil's rich silicone expertise and personalized customer service to deliver medical-quality silicones that meet the needs of virtually any skin care application — from moisturizers and sun screens to skin repair serums and anti-wrinkle lotions, or anything in between.
With three decades of global leadership and silicone innovation in the healthcare industry, NuSil offers silicone technology unparalleled in the skin care market. Silky, smooth, and pure, CareSil silicones are processed with the same care the company takes with its medical-grade silicones. NuSil's expertise in the medical industry has greatly enabled CareSil to enter the skin care industry with a clear understanding of the regulatory environment behind it. As do medical implant and other healthcare applications, many skin care applications require ingredients with strict regulatory and testing protocols.
"NuSil's extensive experience in regulatory support stems from our legacy in the medical industry," said Brian Nash, Vice President, Sales and Marketing. "It is this experience and connection to the human body and human life that have shaped the mentality behind our skin care silicones."
The driving force behind CareSil is NuSil's philosophy that skin care is healthcare. In close association with the business units for healthcare and medical implants, CareSil is part of NuSil's Life Sciences division.
For more information, please contact NuSil at +1 805-684-8780, or visit http://www.caresil.com.
###
About NuSil Technology LLC
NuSil is a leading manufacturer of silicone compounds for the medical implants, healthcare, aerospace & defense, electronics & engineering and skin care markets for applications requiring precise, predictable materials performance. ISO 9001-certified since 1994, NuSil operates state-of-the-art laboratories and processing facilities in North America and provides on-site, in-person application engineering support worldwide. More information about NuSil Technology LLC can be found at http://www.nusil.com.