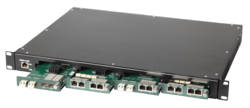 We are excited to be part of the Palo Alto Networks Technology Partner Program
Buffalo, NY (PRWEB) March 21, 2013
Garland Technology, the innovator of modular Bypass TAP Technology Solutions, announced today that its Bypass family of TAPs is compatible with Palo Alto Networks Next-Generation Firewalls.
Garland Technology is a market leader in network TAPs, aggregation/regeneration TAPs and filtering aggregation load balancing solutions for enterprise networks, service providers and government networks.
When used in conjunction with Palo Alto Networks Next Generation Firewall, Garland Technology Bypass TAPs can provide a comprehensive network monitoring and availability solution for mutual enterprise customers. Bypass TAPs provide enterprise customers with 100% visibility and availability to network traffic by mitigating risks of scheduled downtime of an inline appliance for configuration changes or maintenance.
Chris Bihary, CEO/Co-owner of Garland Technology, said, "We are excited to be part of the Palo Alto Networks Technology Partner Program. We are an access point for connecting the Palo Alto Networks Next-Generation Firewall in-line without having to worry about network downtime, maintenance or troubleshooting. Our Bypass TAP Technology is available for 1Gigabit, 10Gigabit and 40Gigabit Networks."
This partnership ensures interoperability between Palo Alto Networks Next-Generation Firewalls and Garland Technology's line of portable, modular and integrated bypass switches to ensure continuous network monitoring, availability and mitigation under planned or unplanned interruptions to network services.
"We welcome the addition of Garland Technology to our Technology Partner Program," said Chad Kinzelberg, senior vice president of Business and Corporate Development for Palo Alto Networks. "Garland Technology is focused on helping customers deploy their Next-Generation Firewalls in highly dynamic network environments that require continuous monitoring and uninterrupted availability."
About Garland Technology
Garland Technology provides people with the ability to look into networks for total visibility by way of TAPs to ensure a secure network with peak performance monitoring capabilities. Garland Technology is the foundation to all Network Monitoring by delivering Network Access to all data for security, network visualization, network performance monitoring, forensics, deep packet capture, data leakage, and compliance. Garland Technology's full line of Network TAPs, Aggregation TAPs, Bypass TAPs, Regenerating TAPs and the Filtering Aggregation Load Balancing is a Network Access Solution. Its Network Access Products are available for 10/100/1000, 1 Gigabit, 10 Gigabit and 40 Gigabit local and wide area networks.
For more information, visit http://www.garlandtechnology.com.