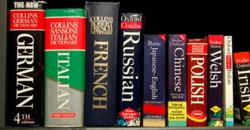 Leicester (PRWEB UK) 27 March 2013
Language There are about 6,000 - 7,000 languages in the world, some of these language books teach a variety. Going on holiday? These language books can help you achieve the language you want to learn in an instant. Learning a language also tests the brain and can make it more intelligent. The languages that are most spoken in the world are: English, Spanish, Portuguese, Russian, Hindi, Arabic and much more.
Please note: language books are sold and can be purchased at snazal.com.