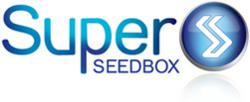 On the occasion of 4th Anniversary, SuperSeedBox.com offers flat 50% off (Coupon Code: 4BDAY) on all the products except dedicated servers.
Sheung Wan, Hong Kong (PRWEB) March 04, 2013
In this high-tech era of communication, where lightning fast connectivity matters the most, finding a web-based server with unlimited bandwidth and dedicated high-speed Internet connection for data-rendering becomes the first choice for almost all the online businesses. Seedboxes, as an option among those dedicated servers with high-bandwidth data rendering ability and high-speed connectivity platforms, serve the best for multi-tasking operations. Using bit-torrent protocols and lightning fast Internet connectivity, anyone can download Gigabyte volumes in a matter of minutes, using a Seedbox server. If any subject requires to download bulky files in such volumes, that is also possible through a Seedbox solution.
Among those various types of server hosting solutions, VPS or Virtual Private Servers are one of the most popular choices on the web. Although dedicated servers are trusted by many users as the best solution providers as-far-as their web hosting is considered, still Virtual Private Servers delivering virtual dedicated interfaces, offer similar functionality at much lesser cost. In this era, where every saving counts, finding dedicated performance with most of the facilities of dedicated server is something that may not be ignored easily among the small and medium business owners.
Although there are plenty of options available over the World Wide Web, finding the right service provider with a dedicated customer support is still considered to be a great concern. Under such purview, a server solution provider, which renders the best of the service with 99% up-time assurance, is SuperSeedbox.com. This promising server solution provider has started its journey with seer passion of rendering dedicated service for its customers. With a targeted focus for small and medium business-houses, individuals and all those, who would like to go for budget server solution, SuperSeedbox.com is offering convenient options with dedicated performance all together.
During the last 4 years of its operation in rendering server solutions ranging from Seedbox, Virtual Private Servers (VPS), Semi-Dedicated Servers and Dedicated servers, this promising server solution provider has won many trusts in its favor. With highly dependable up-time guarantee and 24-by-7 customer support channel, it's offering greatly dependable solutions that speak of its dedication and passion.
Celebrating its fourth anniversary, a senior spokesperson from SuperSeedbox.com annunciates, - "We have completed 4 major milestones in rendering server solutions for versatile profiles of operations through our journey of last 4 years. Within this time, we have studied customer demands and have always worked hard to render the best server solutions for dedicated, semi-dedicated and Seedbox servers. At this juncture of time, we feel glad to announce our fourth Anniversary offer. We feel honored to announce a flat 50% off (available with Coupon Code: 4BDAY) on all server rental options except for the dedicated range of servers that are already available at the most competitive pricing. Any one, who is interested to rent our sever solutions, is requested to raise a call-ticket through our online platform. Our professionals will contact him and explain for the best choice of server as per the specific preference. To raise your level of confidence, we also extend a money-back guarantee upon non-fulfillment our service commitment. What would you require more, when you can find all these services at an amazing starting budget of $ 29.95!"
SuperSeedbox.com has raised its standard as a committed, performing and dependable server solution provider for VPS, Dedicated Servers and Seedboxes. To know more on their anniversary offer, login today to their web platform at http://www.superseedbox.com!