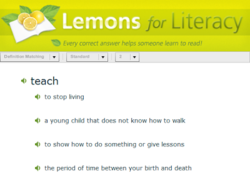 Salt Lake City (PRWEB) March 16, 2013
Reading Horizons' donation program, Lemons for Literacy, has chosen the Family Literacy Center in Billings, MT to receive free reading software. Lemons for Literacy features one organization at a time and website visitors play a free vocabulary game to help them earn free software.
Once 100,000 vocabulary terms have been correctly paired with their definitions, the Family Literacy Center will earn their free software.
Statistics show that over 40 million people in America struggle with literacy problems. Lemons for Literacy is an initiative produced by Reading Horizons in an effort to help lower this number.
Lemons for Literacy has two goals:
1. To help cure illiteracy by providing free literacy materials to people in need.
2. To provide free education for everyone.
The Lemons for Literacy vocabulary game not only help the organization or individual, they help the people playing the game increase their vocabulary and literacy skills. Previous featured organizations include West Elementary, Project Read, and the Superhero Training Center.
Applications to be a featured individual or organization can be found here.
About Reading Horizons
Founded in 1984, Reading Horizons provides teacher training, teacher manuals, and interactive software that empowers teachers to effectively teach beginning readers, struggling readers, and English language learners. By teaching students the core of Reading Horizons framework (The 42 Sounds of the Alphabet, Five Phonetic Skills, and Two Decoding Skills) students have all of the skills they need to read over 86% of the words in the English language. The Reading Horizons program is currently offered in over 10,000 schools across the country. Follow Reading Horizons at @readinghorizons.