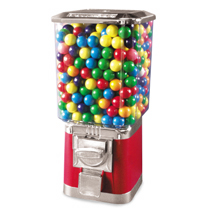 "At Specialty Store Services, we are always thinking about the next best service or product that will aid the store owner in making money for the retail store" says Eric Weinstein, Owner
Des Plaines, IL (PRWEB) March 05, 2013
Specialty Store Services has stocked a wide variety of Profit Makers on the website and have written many articles on the importance of products or services that increase profits in the retail store. Profit Makers can be items that a customer plays after a purchase or a game of chance with the prize being a discount on future orders or a free product. Specialty Store Services has various Vending Machines (gumball machines), games of chance and Frequent buyer punch cards. "At Specialty Store Services, we are always thinking about the next best product or service that will make the retail store owner more money," says Eric Weinstein, Owner.
Specialty Store Services has a large selection of vending machines on the website that will vend 1" gumballs, bulk candy and toy capsules. A vending machine can be paid off and making a profit before the first box of candy or gum is sold. These items are great to have located at the door for kids and adults alike. Specialty Store Services carries a Winner gumball that can be added to the regular gumballs and each person that receives one wins a prize. This has been a great item for Specialty Store Services for many years.
As well as Vending Machines, Specialty Store Services has a wide variety of Games of Chance. These items are great giveaways for the customers that have made a purchase. The games of chance come in a variety of styles, the Quarter Dunk game where the customer attempts to get the quarter on a platform and if that is accomplished a prize is awarded. There is also the "Hit the Jackpot", customer receives a game card and pulls tabs to reveal three matching symbols on card and if that is accomplished a prize is awarded. Lastly the Treasure Chest, this is an exciting promotion that is intended to increase repeat business. Each customer is given a key after a purchase is made and tries to open the treasure chest and if correct key opens the chest a prize is awarded. When deciding to carry games of chance one must find out if permissible due to local restrictions on gambling.
Another great way to bring in extra sales is a Frequent Buying Card that is given to customer and after each sale is awarded a punch. Once 10 or 20 punches are completed customers can receive free products or discounts. At Specialty Store Services punch cards can be personalized to fit the business needs with the new capability to print in four colors with endless possibilities.
Specialty Store Services, a second-generation family owned business, offers everything necessary to operate a thriving retail store, from logistical solutions and retail supplies to custom and stock fixtures. Over the last 25 years, this service-driven company has cultivated relationships with global partners while developing the expertise and knowledge required to provide competitive prices, outstanding customer service and quality products.
As always, Specialty Store Services features a selection of reduced and discounted prices on a variety of items on the website. With closeouts on Electronic Safes, security products, and other store fixtures or supplies, retailers can find everything they need at the lowest price, guaranteed.
For more information about Specialty Store Services or to request the new catalog, visit the company's website: http://www.specialtystoreservices.com.