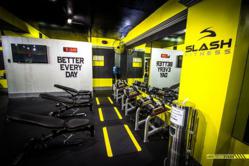 PURE is making lives better not only in hotels but also in fitness centers across America!
Delray Beach, FL (PRWEB) March 04, 2013
Slash Fitness prides itself on its distinctive, new-age approach to fitness, refusing to blend in as a "typical" gym. By seeking only the most effective and efficient fitness regiments and providing revolutionary equipment, Slash Fitness aims to provide the most original workout experience, break through the standards that people are used to seeing. Powerblocks, Bosu balls, and battling ropes are examples of some of the latest and greatest performance pieces of equipment you will find at Slash. Their philosophy is that "YOU are the machine", which sets them apart from many fitness centers primarily dominated by traditional workout machines. Rather than repeating a cycle of formal workout classes, these semi-private personal training sessions or "Slashes" as they are called, rotate each day so that there's no need to adjust your schedule. And now all these amazing workout sessions can take place in an atmosphere dedicated to health and wellness – with PURE!
PURE Solutions NA is creates comfortable and healthy breathing environments with their patented conversion process and innovative hypoallergenic products. With thousands of allergy-friendly hotel rooms worldwide and a variety of in-home products available for customers, PURE is committed to making lives better by creating the most comfortable indoor air environments. By partnering with Slash Fitness, they look to blend a focus on fitness, health and wellness with fresh, healthy, allergy friendly air…starting with Slash Fitness.
According to the American Lung Association, 1 in 4 Americans suffers from asthma or other respiratory allergies. For that 25% of the population, working out brings more huffing and puffing challenges than the rest of us. According to Livestrong.com, working out increases your heart rate which causes one to breathe faster in order to constantly resupply the body with oxygen. Oxygen in turn is burned in the body to allow muscles the energy needed to keep up. So while the quality of the air we breathe while working out is important for everyone, it becomes especially critical for people with breathing challenges.
PURE's comprehensive program works to minimize the presence of allergens and irritants on both the physical surfaces we contact and the air we breathe. Bacterial viruses survive and thrive on many moist spots that can be found in most fitness centers such as sweaty mats, public seating areas, and any other damp surfaces. A study by Women's Health indicated that three fourths of the surfaces touched in fitness centers contain these germs that a simple wipe-down cannot destroy. One step in PURE's conversion process is the application of a bacterio-static barrier that gets applied to all surfaces. Under a microscope, this barrier, called PURE Shield, looks like a bed of nails that does not allow contaminants to attach themselves to surfaces and even puncture the membrane of a bacteria cell. The result is surfaces that make it very difficult for germs to survive. Another critical step is the installation of a medical grade air purification system. This system will continuously circulate and filters the air and kills 98-100% of viruses and bacteria that are floating around.
The result of the entire PURE process is in the Slash Fitness center is an environment that smells and feels great while investing in the health and wellness of the people working out. This partnership brings together two companies that think outside the box. Combining careful attention to detail and a strong passion for making lives better, bringing PURE to Slash Fitness seems to be …well….PURE genius.