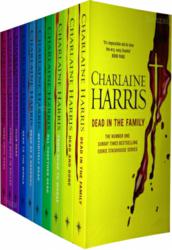 Leicester, Leicestershire (PRWEB UK) 9 March 2013
True Blood Collection, 10 Book Set. This series, inspired by the dark and sexy nature of the vampires, contains the following True Blood books in series...
1. Dead Until Dark,
2. Living Dead in Dallas,
3. Club Dead,
4. Dead to the World,
5. Dead as a Doornail,
6. Definitely Dead,
7. All Together Dead,
8. From Dead to Worse,
9. Dead and Gone,
10. A Touch of Dead.