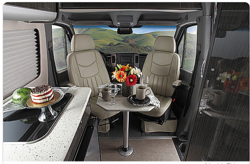 these are not your typical vancampers
Ft. Myers, FL (PRWEB) March 05, 2013
Now offering the number one selling Touring Coach with a Mercedes-Benz engine, North Trail RV Center is excited to announce the addition of the luxury, Airstream Touring Coach, the Interstate. This award winning luxury coach is Best in Class for design, quality, innovation, craftsmanship, safety features, chassis upgrades, premium features and integrated systems according to the Airstream Interstate 2013 Brochure.
"These are not your typical, class "B" campers for RVing around the country," says Alan Erp, owner of South Florida's largest RV dealer, North Trail RV Center. "More and more people are looking for luxury options to travel to and from their boats, vacation houses, athletic events and more. These touring coaches seat up to 8 people and have such premium features as multiple, flat screen televisions, Corian surfaces, Ultra Leather seating, sleekly designed interiors and of course, the Mercedes-Benz 3.0 Liter V6 Turbo Diesel engine. They are fun to drive, easy to maneuver and can carry a bunch of people comfortably for extended periods of time. They get exceptional mileage, at 18+ estimated highway and with financing options of up to 20 years the payments can be unbelievably low."
North Trail RV Center already carries the Pleasure Way brand and also the Winnebago Era and these brands are already hot sellers.
"We feel strongly that adding Airstream will solidify our presence in the "Class B" market even further, driving sales of all of the Touring Coaches we currently carry.", says Joe Jackson, Sales Manager of North Trail RV Center.
For more information, please visit http://www.northtrailrv.com or call 1-888-819-9973.
About North Trail RV Center
With coast to coast locations, North Trail RV Center is South Florida's largest RV dealer. With over 50 million dollars of inventory in stock, North Trail RV Center features the best RV manufacturers in the country such as Tiffin Motorhomes, Newmar, Fleetwood, American Coach, Heartland RV, Thor, Winnebago, Keystone RV, Pleasure Way, Airstream and Jayco. For over 26 years, the locally-owned, family business has grown to employ over 180 people in 3 locations throughout South Florida. With major facility expansions underway now in Ft. Myers, North Trail RV Center will continue to be South Florida's number one, full-service RV dealer for many years to come. 'Like' us on Facebook at http://www.facebook.com/northtrailrv.
Media Contact:
Jennifer Sabella
Public Relations
1-888-819-9973
###