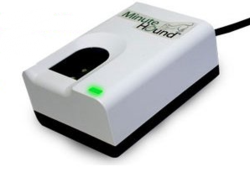 A typical business realizes an ROI (Return on Investment) of 2,300 percent when making the switch to MinuteHound. From day one - the system pays for itself.
New York, NY (PRWEB) March 11, 2013
Owners of thriving companies frequently lament that they have too much to do and too little time to do it. They have a million things to manage, and it's nearly impossible to find the time to research new technologies that can help them run their business more effectively.
Businesses have discovered an easy and obligation free tool MinuteHound now offers. By visiting their website, interested parties are now available to input their own numbers to figure out certain costs and projected savings. Business owners cannot afford the extra costs associated with wasted money due to time theft, buddy punching, and human error.
It's vitally important to utilize effective tools for recording employee time and attendance, but many businesses lack a modern biometric time clock. Replacing an antiquated timekeeping system that is subject to errors, employee manipulation and over-payments is a priority.
In fact, the American Payroll Association (APA) reports that over $148 billion dollars per year, or approximately 5 to 10 percent of an average business's payroll cost, are actually excess payments to employees as the result of ineffective time and attendance systems. Using state-of-the-art time and attendance tracking technology to collect real-time data, gives management all the information they need to schedule personnel, control employee costs, and balance employee workload.
MinuteHound offers an industry leading biometric time attendance software solution which is a valuable addition to any business operation. MinuteHound has developed a patented biometric time clock with cloud based attendance software that allows employees to clock-in and clock-out with just the swipe of their finger. No more manual time cards, time stamps or logging.
An employee need only touch the MinuteHound biometric time clock and the scanning unit automatically updates the employee's online records. This provides management with real-time access to their staff's work status via any internet browser, at any time. Management can obtain real-time reports to assist in balancing workload, estimating expenses, monitoring overtime, and handling other important payroll tasks.
Getting started with the MinuteHound system is quick and easy. The MinuteHound time and attendance software application is "plug and play." No I/T experience is required.
MinuteHound offers cost savings estimates to all business owners.
MinuteHound Contact Information
Website: http://www.MinuteHound.com
Email: info(at)MinuteHound(dot)com
Phone: (800) 351-7237