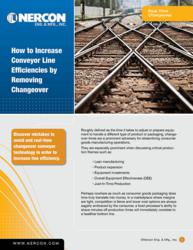 Oshkosh, WI (PRWEB) March 05, 2013
Nercon Eng. & Mfg., Inc. announces a new white paper, "How to Increase Conveyor Line Efficiencies by Removing Change-over."
Change-over is defined as the work and time involved between making the last good product of one recipe and making the next good product from a different recipe at normal production speed.
For high-volume food and consumer goods manufacturers, every minute of change-over down-time can cost thousands of dollars in unproduced product. In high capacity production environments, forward thinking manufacturers look to minimize or eliminate the need for change-over and at the same time plan for system adaptability for product sizes of the future.
In this white paper, conveyor equipment and controls solutions are highlighted that solve for increasing through-put on multi-SKU lines.

Conveyor systems that eliminate change-over tasks.
Conveyor systems and devices that can change-over while machines and conveyors are still running.
Quick change-over technology that requires a shut-down to accomplish the task.
Mistakes to avoid in planning for multi-SKU conveyor lines.
Automation examples with cost comparisons and efficiency analysis.
Project engineers, production supervisors and plant or operations managers will benefit from reduced change-over strategies to increase line capacity and improve OEE (overall equipment effectiveness.)
Click here to download the white paper.
Nercon provides product handling solutions for food and consumer goods manufacturers. Engineering specialists deliver conveyor equipment and controls solutions to solve manufacturing challenges and objectives, from OEE and equipment sanitation to reducing energy costs and maximizing capacity.
For more information about Nercon Eng. & Mfg., Inc., visit http://www.nercon.com.