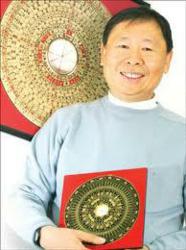 We are thrilled to be able to announce Raymond Lo is coming in April, he is truly a master in his field and we are honored to host him. - Soniyaa Kiran Punjabi, CEO and founder.
Dubai, Abu Dhabi (PRWEB) March 15, 2013
Raymond Lo is a Feng Shui Master with a reputation that is unsurpassed. His names come before his resume these days, as people all over the world gain knowledge of his work first hand through his schools, training centers and traveling workshops, held all over the world. He will be coming to Illuminations to host a series of seminars and workshops during April.
Mr. Lo was born in Hong Kong, and went on to graduate with a social science degree from the University of Hong Kong. He then began to seek what he calls "the truth" and this searching led him to Chinese metaphysics which has carved out his place as a consultant and teacher with people from all over the world. He has even set up a school of Feng Shui and Destiny which offers in depth training for those who are on the path of feng shui. Many of the graduates who have worked directly with him have went on to become very well known and acclaimed writers, teachers and practitioners in their own right.
Mr. Lo has appeared on numerous television shows, including : ABC's "Good Morning America", BBC's "Wicker's World", Australian TV "Today Show", Discovery Channel's "Feng Shui Makeover", CNN's "Tech Watch" and Chinese new year interviews.
He has also written a newspaper column for the Hong Kong Standard, as well as several popular Feng Shui books in English and Chinese, which have enjoyed worldwide popularity. He was lecturer at the School of Professional and Continual Education at the University of Hong Kong, consultant to the Hong Kong Tourist Board for their Feng shui lectures and tours, as well as consultant for the Peninsula Hotel's Peninsula Academy, and SCMP.com's annual feng shui forecasts.
As well as Raymond Lo, Illuminations also welcomes Umesh Nandwani and Vanya Silverton, amongst others to their center in Dubai for a host of workshops. The series of workshops come as part of Illuminations aim to bring global healers to Dubai, and to bring the best and most experienced therapists to the center.
Illuminations work on the basis that an individual must be treated as such, and treated holistically using a range of techniques over time in a supportive environment. They believe their approach, whilst not replacing traditional western medicine, can add to, enhance, and sometimes replace it, adding benefit and perceived benefit to the client, helping to reduce stress and symptoms.
Through their center in Dubai and through their partnership working across a number of platforms, Illuminations offer Daily Meditations, Holistic Training Programs, Private Consultations and Holistic Products. Their new website is being launched soon, which will offer clients the access to all information and tips from the organization, as well as the ability to make booking and purchases through the site. This will combine with their social media outreach across platforms like Facebook, Twitter, Tumblr and Meetup. They have established a fun and quirky approach to social media and work daily on these platforms to update their clients in a new and fun way.
Illuminations work was borne out of a growing desire by people to need support to look within themselves for the answers and guidance to support them to live happier more peaceful lives. Illuminations understand the importance of supporting this personal journey and offer a full range of holistic services for clients, yoga, meditation, hypnotherapy, feng shui, astrology, truly creating a space where everyone can find a suitable method of unlocking their true potential.