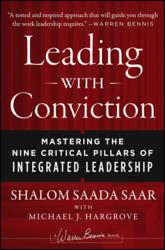 "A tested and inspired approach that will guide you through the work leadership requires." --Warren Bennis
San Francisco, CA (PRWEB) March 13, 2013
There is only so much a business can do to set itself apart. Cutting costs, embracing current technologies, or implementing new business models are strategies seen in nearly every type of business imaginable—but none of these are enough to bring the success and innovation necessary to make a business exceptional. There is, however, one asset that truly distinguishes and elevates a business in the long term: leadership.
In Leading with Conviction: Mastering the Nine Critical Pillars of Integrated Leadership (Jossey-Bass; $27.95; February 2013, 978-1-118-44426-9) authors Shalom Saada Saar and Michael J. Hargrove, internationally recognized leadership development coaches, argue that leadership is the only sustainable competitive advantage in today's marketplace. As the latest book in the Warren Bennis series, which is devoted to exemplary contributions to management thought and practice, Leading with Conviction is an exceptional guide to facilitating change through leadership.
Leadership is a quality anyone can learn, which is why the authors make a priority of coaching readers on this elusive quality. After conducting hundreds of coaching sessions, administering 360° feedback assessments, interviewing teams, and examining various models of leadership while working closely with a variety of organizations, Saar and Hargrove present their nine pillars of leadership as universal principles applicable to any professional, in any business, anywhere.
Leading with Conviction does not merely outline the nine principles of integrated leadership—it teaches them. By providing examples, mini-assessments and exercises, the authors ensure that readers will have ample opportunity to learn and practice these principles in their everyday lives. Through these practical assessment tools, anyone can transform their organization through leadership. These self-assessment tools, which can be used by individuals or by a group, will help you:

Learn how to mobilize your most important asset—your people
Examine how to leverage your strengths and overcome your weaknesses
Explore strategies to enable your people to embrace change
Maximize your people's potential and unleash the power of your team through coaching
Discover the use of reflection as a vehicle for transformation
The benefits of having a leader-run organization are many. Leadership cannot be measured or quantified, but it is readily apparent which organizations possess it and which do not—it can be seen in a business' productivity, its successes, how it treats its employees, and even how it handles its failures. One thing leadership can be, however, is learned. With the expert guidance of Saar and Hargrove and their variety of assessment tools, Leading with Conviction ensures that every reader can and will have what it takes to become a leader that can make a difference.
About the Authors:
Shalom Saada Saar is a Professor of Management Practice and Leadership at Cheung Kong Graduate School of Business in Beijing and teaches Self Awareness and Management at MIT. His work focuses on enhancing leadership effectiveness through self-awareness and organizational change. Shalom has consulted with numerous organizations and coached senior executives throughout the world. He has taught at Harvard University, SMU, and China Europe International Business School in Shanghai, and he has delivered speeches on the power of leadership in mobilizing people and organizations. Shalom received his bachelor's degree in economics and psychology from Swarthmore College and master's and doctoral degrees in Organizational Behavior and Public Management from Harvard University.
Michael J. Hargrove is cofounder of the Center for Leadership Development. He has led large-scale change efforts for global companies. His work has focused on improving performance by leveraging strategic thinking and collaborative leadership. He has trained numerous managers on becoming facilitators of change. He received his master's and doctoral degrees in planning and organizational behavior from Harvard University.