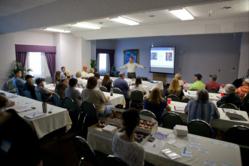 This conference is a fun way for the users to become experts with the applications that they use everyday.
Logan, Utah (PRWEB) March 12, 2013
Every year iWorQ hosts an Annual User Conference as an opportunity to be taught one-on-one, learn about their applications and have fun. During this two day event people from all over the country come to The Riverwoods Conference Center in Logan, UT. Those who attend the conference also receive group rates on hotel rooms at The Riverwoods. This conference is a fun way for the users to become experts with the applications that they use everyday.
On the first day of this conference, there is a special keynote speaker such as Gary Richins from Franklin Covey who spoke last year. Typically to start things off, iWorQ will go through an overview of some of their applications showing how to get the most out of those applications and use them effectively. During this time, there are also discussions on a few of these topics and how different cities are implementing the programs. This day also includes activities; in the past they have been golfing, rock climbing and hiking, just to name a few.
The second day includes multiple break out sessions for the various applications that iWorQ offers to local governments. The users are able to choose between different applications throughout certain time slots. These breakout sessions go over the specifics of the applications and how to optimize the tools that are provided in them. This is a more in depth look at what the programs can do and how they can be applied. Included in the breakout sessions, iWorQ will also go over all of their newest features including new tabs and the iWorQ Request App for Android and Apple phones. They are constantly updating and creating new features that will be covered during this conference. After the break-out sessions they provide one-on-one training for those who need a more focused training on certain aspects of the applications. This is a time provided for answering question and getting a step by step walk through of entering in and modifying that data. The applications that will be over viewed include Work management, Permit management, Code Enforcement, Service Request and Fleet management. Other assets that local governments need to track such as sewers, hydrants and signs will be over viewed as well.
During this conference iWorQ strives to help their users become more familiar with their programs. They say that their main objective however is to have fun, not only in the conference setting but outside as well.