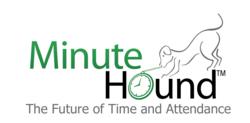 In fact, companies who purchased the MinuteHound solution have enjoyed a 2,300 percent return on their investment.
Los Angeles, CA (PRWEB) March 04, 2013
Accurate employee timekeeping is essential to the vitality of all organizations. Whether compensated hourly, salary, or by commission, every business has the right and duty to know what paid employees are doing with their time.
According to the American Payroll Association (APA) businesses lose upwards of $148 billion dollars every year due to inefficient time and attendance systems. The APA also reports that up to 10 percent of a company's total payroll cost may actually be overpayment as a result of poorly designed and implemented tracking and reporting practices.
Few budget areas can lead to this much damage and cause the bottom-line to go red. That is why MinuteHound developed the industry leading biometric time and attendance solution.
The MinuteHound Time Clock System can save companies 2 to 8 percent of their payroll costs starting from day one. Companies have reported a 2,300 percent return on investment (two-thousand-three-hundred-percent-ROI).
The MinuteHound Time Clock solution is powerfully simple. It consists of 3 components:
(1) MinuteHound Time Clock Scanner
(2) MinuteHound Time Clock Software
(3) MinuteHound Web Portal
The scanner can be connected to any computer, allowing employees to swipe their finger across the unit to check in and out of work. The scanner confirms the employee's credentials and immediately updates the cloud based database. This data is available to authorized users in real time from anywhere with an internet connection.
MinuteHound's cloud based system protects data from local disasters. Scheduling, vacation time entry, and other features are all accessible via the online portal.
Because the solution is web-based, MinuteHound customers can access their time and attendance reports at anytime, from any internet enabled device. Allowing employees to view their own timekeeping records (which is optional) saves precious management time.
MinuteHound's monthly pricing plan is designed to fit any business's budget. To access the benefits and savings, MinuteHound customers invest in two things:
MinuteHound Fingerprint Scanner - One time charge of $99.95. Includes the necessary 6-foot USB cord. Each scanner is backed for life with a complete money back guarantee.
Monthly Service - $1.00 per month for each registered employee; $5.00 per month for each location. The MinuteHound calculator allows interested parties to calculate projected payroll savings and pricing. No personal information is required to use the calculator.
MinuteHound Contact Information
Website: http://www.MinuteHound.com
Email: info(at)MinuteHound(dot)com
Phone: (800) 351-7237