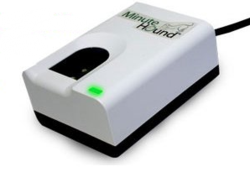 The more employees that are using MinuteHound to clock in and out, the greater the savings.
New York, NY (PRWEB) March 05, 2013
Far removed from the overhead, frustration and complication of traditional time card systems, MinuteHound requires only a single finger scan to do the job. Employee arrival and departure times are automatically logged. This company is greatly contributing to more efficient global business operations, saving companies money without sacrificing normal operations.
Secrets to Savings
The secret to MinuteHound's vast popularity is that it is uniquely easy to use. As opposed to adding new procedures, controls, administration menus, and forms to fill out, as sometimes required by other systems, MinuteHound adds technology while removing everyday hassles.
Savings #1: Time is Money
According to the company: "MinuteHound's clock-in process is the fastest in the industry." Because clocking-in is easy, the process takes only seconds. It doesn't require employee training sessions, and adding new employees is simple. The company now provides a suite of tools on its cloud-based platform that allow analysis and reporting, as well as the ability to download attendance data. Management can control overtime, monitor attendance problems, and plan for workload changes.
Savings #2: Accuracy Cuts Costs
Quality biometrics assure accuracy and efficiency in record time. Finger scans are instantly recorded online with official time and date.
Utilizing this highly accurate data, companies typically save 2 to 8 percent on payroll costs. Handwritten or inaccurately punched time cards are becoming a thing of the past as companies begin realizing their true hidden costs.
Savings #3: Removing Staffing Guesswork
Utilizing modern mobile communications technology, MinuteHound keep managers aware of actual staffing levels, attendance problems and irregularities as they happen. Through email and text messages (SMS) information reaches decision makers no matter where they are. A web portal allows managers to sign on to MinuteHound from anywhere at any time.
Adding Up Savings
MinuteHound software boasts dozens of advanced features which combine to reduce the costs of timekeeping and payroll administration. Over time, customers inevitably realize savings. MinuteHound's U.S.A. based tech support team is recognized for its support both in installation and operation. The tech support team makes sure companies don't waste time where they don't need to.
Once MinuteHound is on the job, adding more fingerprint scanners at the same or remote sites is also a breeze. The more employees using MinuteHound to clock in and out, the greater the savings.
MinuteHound Contact Information
Website: MinuteHound.com
E-Mail: Info(at)MinuteHound(dot)com
Phone: (800) 351-7237