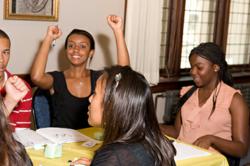 Team Business is gold if you're trying to teach core business principles in a fresh, engaging way that makes sense to the layperson...
(PRWEB) March 01, 2013
Students from around the country will come together at Incline Village Nevada, near the scenic shores of Lake Tahoe for an intense but entertaining program teaching financial and business literacy, communication, leadership, teamwork and critical thinking skills.
The program is open to rising 10th, 11th, 12th grade high school students as well as pre-college students and will take place August 4th – 10th, 2013. SNC is offering college credit for a moderate tuition above the camp fee.
Hands-On, Interactive, and Fun
The program is designed to educate in a way that is both experiential, and fun. Activities center around the formation of small student business teams that are charged to develop a new business or product idea. These teams are carefully coached to work together to develop their idea, prepare a high level business concept plan, and present an elevator pitch to a panel of executives and SNC faculty.
The program features two Team Business (http://www.teambusiness.com) hands-on, interactive business simulations currently used by leading educational institutions around the country. In all the Team Business simulation workshops, teams run their own companies in competition with other teams. Competition breeds creativity and their level of success is based on the business decisions they make and on how well team members lead and interact with each other. Time pressures and a dynamic environment bring hidden individual traits to the surface where behavioral models can be examined in a safe, and constructive way.
The week is packed with the kind of experiential and emotionally charged learning that students don't easily forget. Students bond closely with each other over the course of the intense week both in and out of the sessions and often form friendships and connections that carry far beyond the camp. Watch our Team Business Video to see what experiential business learning is all about
To learn more about the program contact Lara Azzam at (410) 837-1414 or visit their Summer Camps program online http://www.teambusinessusa.com/summercamps/
About Sierra Nevada College:
Founded in 1969, SNC is a private, not-for profit liberal arts college located in Incline Village, Nevada. SNC offers degree programs in more than 14 different fields, as well as offering continuing education programs, an acclaimed summer arts program, and masters degrees at satellite centers in Reno and Las Vegas, Nevada. The college combines the liberal arts and professional preparedness through an interdisciplinary curriculum that emphasizes entrepreneurial thinking and environmental, social, economic and educational sustainability.
SNC is accredited by the Northwest Commission on Colleges and Universities (NWCCU). More information can be found at http://www.sierranevada.edu
About Team Business
Team Business has been bringing interactive live business simulations to the education and corporate training markets for over 10 years. Our business games and simulations teach leadership, team dynamics, business, financial literacy and the importance of face-to-face communication. The environment is provocative and competitive, but also a great deal of fun. Our facilitators have worked around the globe with some of the biggest names in business education and our programs are a staple of the summer programs at many colleges and universities. Learn more at http://www.teambusiness.com.