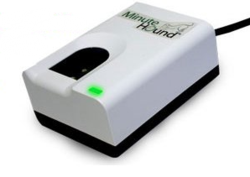 The MinuteHound time clock system uses advanced technology to save time, save money and eliminate buddy punching
New York, NY (PRWEB) March 06, 2013
Small business owners are continually looking for cost effective ways to streamline their businesses. Time is money, and more often than not, both are in short supply. Businesses are always interested in maximizing the return on investment of their staff. Yet one of the most cost effective tools to optimize their staff operations is often overlooked.
The tool every small business owner needs is MinuteHound's fingerprint time clock. Accurately accounting for employee time and attendance is a fundamental requirement for every business. It's what pays the folks and keeps the business moving. However, ineffective time and attendance systems can weaken a small business due to time theft, manual logging, recurring errors, manual consolidation, and inaccurate payments.
The MinuteHound time clock system uses advanced technology to save time, save money and eliminate buddy punching. The typical customer has realized a 2,300 percent return on their MinuteHound time clock investment. They have also saved 2 to 8 percent of their payroll costs due to MinuteHound's exclusive technology.
MinuteHound offers a full solution package consisting of: biometric fingerprint time clock, cloud based 24/7 access via a personnel web portal, and time clock software for small business. The scanner reads employees fingerprints when they sign in and out of their shifts. The scanner automatically checks the employees' identity and uploads the data to the cloud. The fingerprint time clock prevents cheating by having employees verify their attendance. After attendance has been verified, time is recorded. The entire process takes seconds.
The time clock software for small business installs on any computer. The installation is quick and easy, and can be downloaded from any web browser. If any help is needed, MinuteHound has a team of professionals to provide assistance all located in the U.S.A. After the software is installed, a quick registration of employees is all that's needed.
MinuteHound is also cloud based, which means all times are recorded live, then transferred offsite. Information is never stored locally, and never at risk. Managers can log-in and view detailed time and attendance records at anytime, from any internet enabled device. 128-bit encryption is used in order to provide the utmost essential security.
In addition, MinuteHound also provides text and e-mail alerts. This system provides managers and employees instant notification if a worker forgets to clock-in, arrives late, or tries leaving early. This way, even human error is cured. The fingerprint time clock for small business fits any budget, and starts working from day one. Every fingerprint time clock is backed for life with a money back guarantee. MinuteHound does not require any type of training or long term obligations.
MinuteHound Contact Information
Website: http://www.MinuteHound.com
Email: info(at)MinuteHound(dot)com
Phone: (800) 351-7237