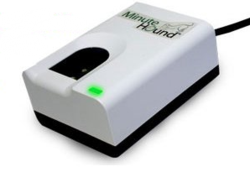 Organizations with unstructured time and attendance systems lay themselves open to rampant time theft
New York, NY (PRWEB) March 07, 2013
Typically, businesses employ many people who work in an office setting. Digital technology geared toward supporting office management has evolved and improved over the years. MinuteHound time and attendance is a full solution for offices that tracks employee time with precision, stops cheating, and reduces costs.
Most offices that invest in I/T tools and technology do so in order to improve productivity and effectiveness. With MinuteHound, there is more saving than investing. Offices pay a small fee every month rather than pay a large sum up front. Support and updates are included with MinuteHound providing offices the assistance needed for success.
The average organization who switches to MinuteHound technology sees an estimated 2300 percent return on their investment. Biometric solutions for office settings are proven to work. Having staff members verify their attendance before recording their time is a foolproof and simple method for accuracy and savings. Reports are easy to understand, error free, and quicker to process.
Organizations with unstructured time and attendance systems lay themselves open to rampant time theft. It's easy for employees to log others in and out as well as "fudge" their own time on the job. If the system makes it easy to "cheat" on their reporting, it will become a habit and be repeated.
The MinuteHound time and attendance system uses a patented biometric fingerprint scanner that stops time theft in it's tracks. The employee simply swipes their finger on the scanner to sign in and out. This exclusive technology eliminates the threat and cost of employee fraud. The scanner confirms the identity of the employee and then records their time. All information is stored in the cloud, meaning all data is secure and accessible.
MinuteHound time and attendance eliminates the following:
Manual time cards to fill out
Buddy punching and time theft
Human error and mistakes
Time sheets and other paper supplies
Storage space- all records with MinuteHound are stored in the cloud
Over and under paying
MinuteHound uses a small device for employee's to clock in and out with. The fingerprint scanner is connected to any computer via a USB cable. The scanner can be placed where it is convenient. It is extremely accurate and saves employees time when clocking in and out of work.
MinuteHound cloud based attendance software keeps employee data safely and securely in the cloud. Having the employee data in the cloud guarantees that the customers information is protected in the event of a local disaster. The software is easy to install, and requires no training. MinuteHound provides step by step instructions to make the process quick and simple.
MinuteHound also allows clients to access their reports and employee information 24/7 from any web browser. Using any Internet connected device, customers can access their employee payroll data via their personal web portal.
All of these features make MinuteHound the ideal time and attendance system for office settings. Each scanner includes a lifetime money back guarantee, with no long term obligations needed for start up.
MinuteHound Contact Information
Website: http://www.MinuteHound.com
Email: info@MinuteHound.com
Phone: (800) 351-7237