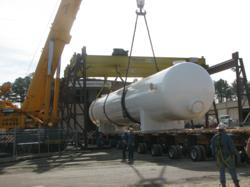 Kilgore is manufacturing friendly. Kilgore has not put any obstacles in our way," he said. "We've found Kilgore, and KEDC, to be very attentive.
Kilgore, Texas (PRWEB) March 19, 2013
When Surface Equipment Corporation was annexed into the City of Kilgore, TX, this past July, it got more than just a new address listing. It was welcomed into the fold by Kilgore Economic Development Corporation — a relationship that SEC president Stephen McLemore has deemed, "very positive."
"The mayor has been out here to visit our facility and KEDC has been with us every step of the way. They let us know up front that they were committed to looking at any capital projects we have coming up. I guess if they can help us a little bit, and we're helping the community, then it's good for everybody," McLemore said.
While SEC may be new to the city's tax rolls, its support for the East Texas economy is long-standing.
For the past two years, the company that builds process equipment and pressure vessels for the oil and gas industry has hired its welding helpers primarily from Kilgore College, a two-year college that offers associate degrees and certificates in specialized occupations, such as welding.
"The idea is, if you bring someone in who's local, who is showing the initiative to become a tradesman, and we bring him or her in here and train them and find the right ones, that creates loyalty toward us as well," McLemore said.
"Also, we do as much work with local vendors as we can," he added. "We use local painters for things too particular for us. We like to buy from local businesses. We'll use a local machine shop when we need them. Anything we outsource, we think Kilgore first, Longview second. We keep it as close to home as possible and I think we all need to do that, especially in these economic times."
Most recently, SEC called on area company Joyce Crane to help them with a mammoth project. SEC had created a 480,000 pound "slugcatcher," measuring nearly 13 feet in diameter and 80 feet long, specifically for a customer in Western Oklahoma. The weldings had been approved, standard with the ASME code shop; a 200-feet long, 128-wheel trailer had been built specifically for the transfer; and a driver, willing to travel at a top speed not to exceed 30 miles per hour, had been procured. The challenge remained to hoist the vessel onto its transport. Enter a company that keeps 600-ton cranes sitting around for just such an endeavor.
"They are a great company to work with," said McLemore, who had previously employed Joyce Crane's help when SEC constructed two 640,000 pound vessels in 2008.
SEC was founded in 1983 and sits on 14 acres north of Interstate 20. Since McLemore took the reins as president three years ago, he said the business has doubled in size — primarily because of hiring their own engineers, seeking out an aggressive sales staff and "basically, hustle," he said.
"Other companies do bits and pieces of what we do. Some have in-house design; some build the same equipment; but there aren't any companies in the area that are as diverse as we are in our capabilities," McLemore said.
Running two shifts of about 70 employees total and with new opportunities opening for the industry, particularly in South America, McLemore would like SEC "to grow into our space."
"Kilgore is manufacturing friendly. Kilgore has not put any obstacles in our way," he said. " We've found Kilgore, and KEDC, to be very attentive."
About Kilgore EDC: Kilgore Economic Development Corporation is an organization founded in 1990 and funded by a dedicated sales tax approved by voters. It is directed by a five-person board and managed by a staff of four with certifications in business retention and expansion, economic and community development and economic development finance. KEDC has won international awards for excellence in economic development.