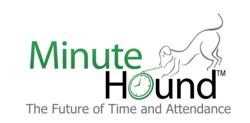 From any internet enabled device, managers can log-in to view and edit information from the office, from home, or on the go
New York, NY (PRWEB) March 13, 2013
Professionals in the food and beverage industry have been looking for something to satisfy their curious appetites; hound is what they're after, MinuteHound that is. Coupling state of the art fingerprint recognition technology with time clock software that actually makes the lives of professionals easier, MinuteHound is a formidable device making its presence known in the food world.
In every business setting, managers and directors need a way to keep track of their employees' labor hours. From handwritten time cards to old-fashioned punching machines and older software, each company has its own method of tracking time-in and time-out. However, the older methods inevitably fail. A few of the problems encountered include broken software, employees who are dishonest about their hours worked, and wasted time resolving issues when employees forget to sign in or out.
Which issues are specific to the food and beverage operations industry? Seeking to meet the demand of many hungry and thirsty mouths, food service providers generally rush through the workday. As a result, individuals may forget to clock-in due to an unnatural process. MinuteHound solves this problem. With the simple swipe of a finger, MinuteHound records all hours worked.
Additionally, many food service operations employ large numbers of people. Bosses and managers may not even see all of their employees on a daily basis; therefore, they don't really know if everyone is at work or not. It's easy for people to fill out a time card for a friend or swipe another person's ID card. However, MinuteHound uses fingerprints to track who is present with 100 percent accuracy. As a result, it's impossible for a person to sign in for a coworker.
MinuteHound is secure. As soon as the fingerprint is swiped, the information goes through a process of 128-bit encryption and fragmentation across four secure servers.
Food and beverage workplaces are often physically spacious. Fortunately, MinuteHound has an answer for this challenge as well. Those in charge of timekeeping need not scour the entire premises for the list of hours worked. If an employee breaks his or her schedule, the manager is automatically alerted in real time via text message or email. Further, the system creates an organized and detailed list of all time and attendance for each employee. From any internet enabled device, managers can log-in to view and edit information from the office, from home, or on the go.
MinuteHound is a system designed to suit the needs of the food and beverage workplace. It is simple to use, secure with personal information, and makes for a more efficient environment. Various packages are available based on company size.
MinuteHound Contact Information
Website: http://www.MinuteHound.com
Email: info(at)MinuteHound(dot)com
Phone: (800) 351-7237