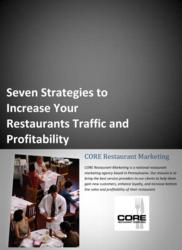 The Commerce Department has reported that personal income plunged 3.6 percent in January, the biggest drop since January 1993
Scranton, Pennsylvania (PRWEB) March 07, 2013
February has ended and the consumer is still feeling the effects of the 2.5 % increase in the payroll tax and rising gasoline prices. The U.S. Commerce Department in their March 1st release has reported that personal income plunged 3.6 percent in January, the biggest drop since January 1993. Considering these economic trends it is easy to understand why restaurant owners are overwhelmed. Add in competitive challenges, human resource issues, declining customer counts, economic impacts, technology changes and rising food cost are just some of the many issues that are faced every day. The list keeps growing and the ability to keep up with everything seems to have most independent restaurant owners at a loss.
Now is the time for action in stabilizing your business and CORE Restaurant Marketing is offering a free whitepaper that will bring value to the restaurant industry. Download the Free Whitepaper "Seven Strategies to Increase Restaurant Traffic" to see the strategies that are proven winners.
Outlined below are five steps to consider to build your customer community.
1. Utilize event marketing to help create activity and drive traffic. Create a monthly event calendar that will drive sales.
2. Consumers are looking for "Value Meals". The chains are great at the "2 for$20″ offers that represent value.
3. Make use of Limited Time Offerings (LTO'S) to offer the consumers variety and improve profit margins with special buys.
4. Step up restaurant marketing activities to drive traffic and build loyalty. Studies have shown that customers who are part of a loyalty program spend 22% more on average.
5. Analyze restaurant POS Data to find opportunities for growth in the business day parts.
With over 30 years of experience in the food industry, CORE Restaurant Marketing is about helping restaurants improve their revenues. The four week CORE Coaching Program helps guide restaurants on a path to increase sales and profitability. For more information, contact CORE Restaurant Marketing at 888-890-9492 x 101.