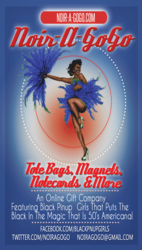 Pinups symbolize everything smart and glamorous about women.
Brooklyn, NY (PRWEB) March 05, 2013
In a bid to make Noir A-Go Go and its pinup girls a household name the online stationery and gift store is releasing a 1 minute and 11 second video on YouTube.
Created by Ysis James of Urbane-Media with original music by TuneLabs Music Group, the video showcases most of Noir A-Go Go's pinup girls and all of the current products that feature them.
"I want Noir A-Go Go to be a lifestyle brand and not just a store," says Owner/Designer K.C. Washington. "To me pinups and the culture that surrounds them symbolizes everything that is smart and glamorous about women so I want my customers to identify with Charlie, Izzy, Belle and the others, and not just our magnets and compact mirrors."
Washington, who launched the company---the only one of its kind---in 2011, has, along with the video, created mini-bios of her gals and writes both her monthly blog "Black Pinup Girls On The Go" and all social media posts in their voices.
"It's fun to embody main pinup Charlie's pluck or Harper's "Fear Is So 1950s" reserve and I think it makes them more relatable," adds Washington.
The video which introduces each member of the Noir A-Go Go family by their signature saying such as Belle's "I like my men shaken & stirred" and Peyton's "Budget? What Budget?" is intended as a marketing tool and as a quick, stylish vehicle for pinup girls in general and Noir A-Go Go's Black pinup girls specifically.
"We all just want to say hello there and welcome to our world!"
Profiled in Madame Noire Magazine, a hit with the Harlem Book Fair, the Brooklyn Book Fair, the 6th Annual NYC Black Doll Show, the Afro Punk Festival, the Atlantic Antic, and gift stores around NYC, with its new video, Noir A-Go Go puts a sepia spin on a beloved genre.
About Owner and Designer K.C. Washington
K.C. launched Noir A-Go Go in January 2011, with the idea that something was missing within the American pinup girl genre, namely women of color. So she decided to put what she calls a sepia spin on the beloved genre and Noir A-Go Go was born. Convinced that the world is more than familiar with the image of African Americans fighting for their rights during the Civil Rights era, she wants to show another image from that time---one of glamour and wit. A Mellon Fellow and a novelist with a background in journalism and literary and historical fiction, K.C. has raised the curtain on a world of beautiful, empowered, stylish women (and a few men) and placed them on everything from magnets and tee shirts to tote bags and greeting cards, with more to come as she expands.