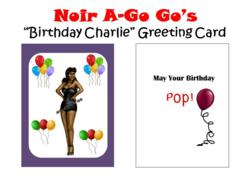 They're great for women of all ages and colors and the best thing is the characters are all empowering!
Brooklyn, NY (PRWEB) March 19, 2013
Standard, run-of-the-mill cards beware! Online gift store Noir A-Go Go is unleashing a new line of Black pinup girl-themed birthday cards just in time for Women's History Month.
The first card features the company's main pinup gal Charlie. A feminist from the cradle to the shoe store and beyond, Charlie hopes everyone's birthday "Pops!" And then there's Julius. He may be Noir A-Go Go's only gentleman caller but he's no token---more of a shout out to all those men out there who love their pinups. Julius can hang with the big boys and girls and never kisses and tells.
"They're whimsical," says long time customer Deborah Pignetti-Ganz. "I can't find this style of cards anywhere else and they're great for women of all ages and colors and the best thing is the characters are all empowering!"
Both whimsy and empowerment are two of the things that the two year old pinup girl-themed gift company is aiming for, whimsy and empowerment with a touch of color, that is.
"The American pinup girl genre, beginning with WWII sweetheart Betty Grable and continuing on down the line to the infamous Bettie Page, is a revered piece of American nostalgia," say Owner/Designer K.C. Washington. "From the 1940s until the present, girls from California to New York don pencil skirts, tight polka dot sweaters, fishnet stockings, stacked heels, and "victory roll" their hair, in order to achieve "the look." And although companies as diverse as clothing, house wares, and novelty gifts, have capitalized on the desire of women to be sexy and sweet, one rarely sees a Black pinup."
Noir A-Go Go is determined to change that. Employing original artwork to showcase Black pinups in classic poses with sayings like "Trust Me Sugar, I've Overcome!", "Fear Is So 1950s", and "Hot Chocolate Served Daily" on everything from their compact mirrors to their greeting cards, the company explores the virtually unknown, certainly unexplored, world of the glamorous Black woman circa 1950.
Both Birthday Charlie and Birthday Julius---produced by the one and only Black pinup girl-themed gift company in the U.S.A.---are 4x6 inches and printed on recycled paper and come with their own envelopes. The two cards join four others plus Noir A-Go Go's inaugural birthday card which features the ever popular Birthday Belle and even though Belle thinks "birthdays are for suckers" one would be a sucker not to pick up one of these awesome new cards!
About Owner and Designer K.C. Washington
K.C. launched Noir A-Go Go in January 2011, with the idea that something was missing within the American pinup girl genre, namely women of color. So she decided to put what she calls a sepia spin on the beloved genre and Noir A-Go Go was born. Convinced that the world is more than familiar with the image of African Americans fighting for their rights during the Civil Rights era, she wants to show another image from that time---one of glamour and wit. A Mellon Fellow and a novelist with a background in journalism and literary and historical fiction, K.C. has raised the curtain on a world of beautiful, empowered, stylish women (and a few men) and placed them on everything from magnets and tee shirts to tote bags and greeting cards, with more to come as she expands.