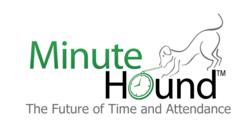 MinuteHound prides themselves on an easy-to-use small business attendance solution with simple installation.
New York, NY (PRWEB) March 14, 2013
MinuteHound, a leader in low-key, high-accuracy timekeeping systems, announces staff attendance software for small businesses. The company has focused the software's features to minimize the cost of tracking attendance while adding advanced management capabilities to keep small business owners on top of their operations.
Keeping Payroll Simple
MinuteHound's software makes timekeeping data available from any web browser. In addition to lowering the time cost of producing payroll, detailed time and attendance reports are always available for review and modification. Managers and administrators can log-in and review their employees work history from the office, home, or on the go.
Accuracy Saves Time
Accounting time saved is a direct result of MinuteHound's technology which combines unique identification of each employee by finger scan with Internet-based time standards. The result is elimination of the manual time card and all the processing time involved. MinuteHound's cloud-based data can be quickly reviewed at any Internet-connected device before payroll is produced. The key person can even take a vacation and check in remotely.
Cloud-Based Security and Availability
Small businesses tend to have a few key personnel who are always on the move. MinuteHound has provided them with several ways to keep on top of staff attendance and labor costs. MinuteHound's software is based "in the cloud," which means it's running on several servers on the Internet, each providing backup for several others. Both the software and company data are secure and always available.
Online Reports Available Anywhere
CEOs, CFOs and other personnel who need to monitor and approve employee work hours can access all MinuteHound data from anywhere via the Internet. The system's reports are designed for "drill down" access, from summary data to department and individual hours.
For even easier monitoring, the software provides programmable alerts for variations in key parameters such as hours and times arrived or left. Executives can use reports to understand discrepancies and staffing issues rather than spend time pouring over them looking for errors, mistakes, and problems.
Replacing Complex Time Card Systems
To staff, MinuteHound is a small, simple finger scan device which can be attached to most computers around the office. It could be connected to a POS system or the receptionist's computer in the lobby. A few seconds to scan means the employee's record is updated accurately. Time clock lines, materials, and costs are all eliminated.
MinuteHound is priced for small businesses. The software, including unlimited updates, is provided as an online service and charged monthly. Cost is often pennies per day. MinuteHound prides themselves on an easy-to-use small business attendance solution with simple installation. They provide free support and ship orders the same day in most cases.
MinuteHound Contact Information
Website: http://www.MinuteHound.com
Email: info(at)MinuteHound(dot)com
Phone: (800) 351-7237