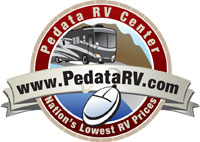 We have seen an increase in consumer demand, but we're not in the clear yet.
Phoenix, AZ (PRWEB) March 06, 2013
Pedata RV Center expands the variety of vehicles kept in their available inventory of used RVs for sale in response to the projected increase in 2013 shipments. According to Dr. Richard Curtin, Director, Surveys of Consumers at the University of Michigan, RV shipments are projected to grow slightly in 2013 to 275,300 units.
Gerard Pedata of Pedata RV Center responds to the projections by saying, "We're responding to the optimistic shipment projections because we have seen an increase in consumer demand, but we're not in the clear yet. There are definitely still items to be concerned about in the RV industry."
"Concerns" of the RV Industry in 2013 Include:

Consumer demand has increased, but it's still a concern as it is nowhere near the level it has reached in the past.
The availability of consistent financing solutions is also a concern as most consumers still have more trouble finding RV financing than in previous years.
Due to the lack of consistent RV financing, product availability and affordability is also a concern for many in the RV industry.
To combat the consequences of economic changes in recent years and maximize on the increase in consumer interest, Pedata RV Center offers programs designed to aid potential buyers and make purchasing an RV a real possibility. These include: the Fly and Buy Program, an Online Searchable Inventory of Recreational Vehicles, Meet or Beat Competitor's Prices Guarantee, Free 24/7 Roadside and Technical Assistance, Access to RV Financing, etc.
Pedata RV Center sells used RVs, travel trailers, fifth wheels, campers, and motor homes. Their full inventory is accessible online and due to their low overhead costs they are able to offer competitive pricing in their industry. Easy access to industry and recreational vehicle information allows consumers to have access to the specific knowledge they need to ensure their purchase results in long-term satisfaction.